PAVO Food Vacuum Sealer VS2120, Black Colour
( Code: KIT-BL-VS2120 )
Tell your friends about this sale at:

---

Twitter

Don't Pay: $179.95

Deal: $58.95 GST Inc.

Save: $121.00(67%)

Out Of Stock
(Coming Soon)

Estimated Handling Time: 3 - 5 Working Days

PAVO Food Vacuum Sealer VS2120 with free sealer bags ( 22x30cm x5pcs and 28x40cm x5pcs) Black color

Preserve and makes food fresh, longer
Great for fruit, vegetables, meat, cheese, fillet etc
Compact, lightweight and easy to use
Maintains freshness, flavour and nutrients
Eliminates freezer burn on frozen items
Great use for packaging for picnics and outdoor events
Reseal food tightly after eat - avoid any wastage from spoiling
East to clean surface
Refill rolls also available

---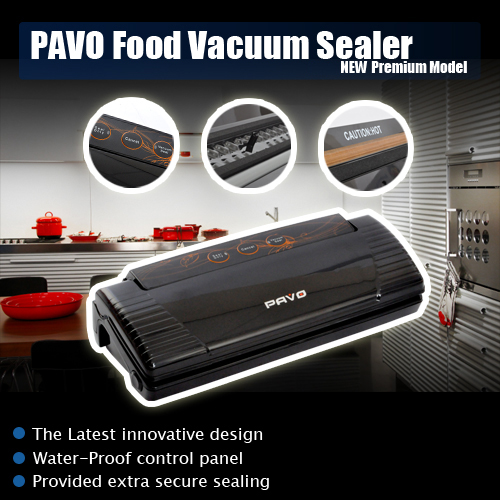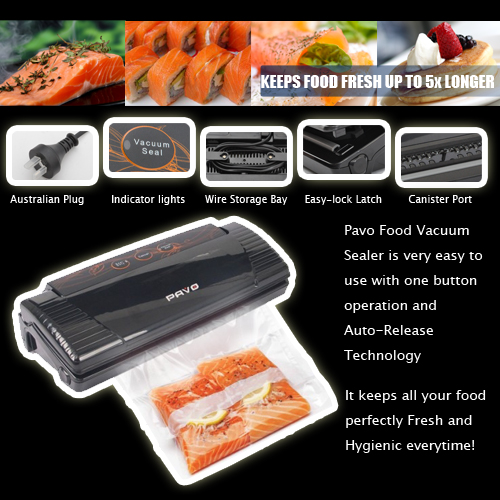 Keep all your food perfectly Fresh and Hygienic everytime!
The New PAVO Food Vacuum Sealer VS2120 is suitable for freshness, keeping and storage of the food
It has Strong suction power, vacuumize bottles/canisters with pipe.
Just simple steps - Vacuum & Seal

Tempted to buy more meat, vegetables, cheese, etc at bulk to save on your local supermarket special deals - but don't think they will last the next day?

This Food vacuum sealer is an essential tool in today's home. It's compact, lightweight and simple operation makes it a lot easier to keep your food fresh for longer.. more effective than even using good ol' cling wrap. Not only saving you shopping time and money, the Vacuum Sealer put an end to food waste, eliminates the risk of freezer burn, and maintains a level of freshness you've never experienced previously with stored food!!

Always keep your food nicely and fresh with PAVO Food Vacuum Sealer VS2120

---
1 x vacuum sealer
5 x big size (28x40cm)
5 x small size (22x30cm)
30 days Replacement Warranty

All images are used for illustration purposes only. Actual item may slightly vary
While every attempt is made to ensure the information provided on this page is accurate, specifications change from time to time and we are not liable.

---
Enter your email address to be notified when this product becomes available.

---

PAVO Food Vacuum Sealer VS2120, Black Colour ( Code: KIT-BL-VS2120 )
Don't Pay: $179.95
Deal: $58.95 GST Inc.
Save: $121.00(67%)
(Out Of Stock)
You might also be interested in: