Canon EOS 600D(KISSx5) Body Digital SLR Camera
( Code: P41056 )
Tell your friends about this sale at:

---

Twitter

Deal: $439.95

Out Of Stock
(Coming Soon)

Estimated Handling Time: 15 - 20 Working Days

Canon EOS 600D(KISSx5) Body Digital SLR Camera - 1 Year Warranty in Australia - DS

1 Year Warranty in Australia
Direct Shipping Offer*
A+ Scene Intelligent Auto
Feature Guide
Basic+ Creative Function
18-megapixel Canon CMOS Sensor
DIGIC 4 Digital Image Processor
9-point High-Speed AF System
Advanced iFCL Metering System
EOS Integrated Cleaning System
Image Rating and JPEG resize function
3-inch Vari-Angle Clear View LCD
5 In-camera Creative Filters
Multiple Aspect Ratios supported by Live View Shooting
Integrated Speedlite Transmitter
Full HD EOS Movie

---
ï»ï»
The entry-level digital SLR camera EOS 600D(KISSx5) combines all-around advancements including the "A+" Scene Intelligent Auto mode, Feature Guide and the "Basic+" Function that allow easy operation. Plus a vari-angle LCD screen, an exciting world of photography is now open for beginners. The new model is also backed by powerful EOS technologies such as an 18-megapixel CMOS Sensor with a 9-point auto-focus system and a wide range of ISO 100-6400 sensitivity, excellent in handling any shooting situation. And with the introduction of the "Video Snapshot" function and up to 10x digital zoom, EOS 600D(KISSx5) brings more excitement to EOS Movie Full HD video recording experience.
A+ Scene Intelligent Auto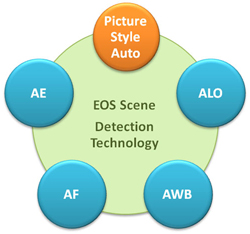 EOS 600D(KISSx5) has included an advanced EOS Scene Detection Technology that can analyze key elements of shooting : faces, color tone, color saturation, brightness, contrast, subject's movement and distance, enabling the "A+" Scene Intelligent Auto mode, a new shooting mode that speedily chooses the optimal settings based on the data of the scenes. It can adjust exposure, focus, and optimize images by making use of Auto White Balance, Auto Lighting Optimizer and Lens Peripheral Illumination Correction. The "A+" Scene Intelligent Auto mode excels in shooting portraits, blue skies and sunsets. With its auto color adjustments, the new camera can shoot the nature with more saturated blue and green colors, sunsets with more spectacular orange warmth and faces with more natural skin tones.

With the new "Picture Style Auto" setting, EOS Scene Detection Technology is also applicable to other shooting modes. EOS 600D(KISSx5) can analyze data and automatically optimize colors, brightness and contrast, reproducing the light and colors perfectly. EOS 600D(KISSx5) guarantees sharp and clear images in any light and condition without complicated manual settings.
Feature Guide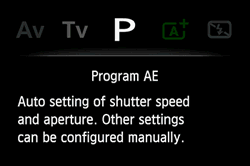 The EOS 600D(KISSx5) includes the Feature Guide on the Quick Control screen, providing descriptions of each setting for beginners to discover the fun of photography. On-screen instructions are available when choosing different shooting modes and settings, walking users through the advice of using aperture, shutter, lSO and Speedlite settings.
Basic+ Creative Function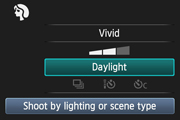 A "Basic+" Function can be set in the "Basic Zone" for users to achieve intended results with easy control. Ambience settings can be made in Basic Zone (Portrait, Landscape, Close-up, Sports or Night Portrait) to enhance different atmosphere with settings such as Vivid, Soft, Warm, Strong, Cold, Brighter, Darker or Monochrome. Also, lighting or scene types can be chosen like Daylight, Cloudy, Sunset or Tungsten Light etc.
18-megapixel Canon CMOS Sensor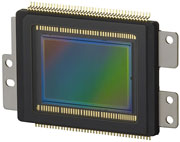 EOS 600D(KISSx5) is equipped with an 18-megapixel APS-C sized Canon CMOS Sensor, using Gapless Microlenses and reducing the distance between the microlenses and photodiodes in order to strengthen light-gathering capabilities. The redesigned photodiodes structure can enhance photoelectric conversion efficiency which improves signal to noise ratio, guarantees high ISO images with low noise performance.
DIGIC 4 Digital Image Processor

Thanks to DIGIC 4's ultra high-speed processing power, EOS 600D(KISSx5) handles CMOS Sensor's output with 14-bit image processing for smooth and rich color reproduction. It also enables functions like Auto Lighting Optimizer that optimizes brightness and contrast of subjects in backlit or shadowed situations, and Lens Peripheral Illumination Correction that compensates for light falloff at the corners of the image commonly found in wide-angle lenses.

The CMOS Sensor and the DIGIC 4 Digital Image Processor endow EOS KISSx5 with a wide ISO range from ISO 100 to 6400 (in 1-stop increment, expandable to 12800), smooth images can be captured in any lighting situation with subjects moving in any speed. An upper limit for Auto ISO can be set to strike a perfect balance between image quality and shooting flexibility.
9-point High-Speed AF System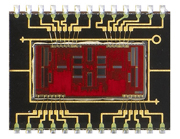 The 9-point AF system on the new EOS 600D(KISSx5) features a cross-type sensor at center supporting even higher focus accuracy with f/2.8 lens, plus all 9 focusing points that are evenly spread out across the image pane in a diamond shape, accurate focus can be captured even with an off-center subject.

The Phase Detection Autofocusing system adopted by EOS 600D(KISSx5) is best for tracking moving subjects, by predicting movements, it is best suited for capturing pets on the move and children at play, easing up autofocus and composition. Even in low-light situations, EOS 600D(KISSx5)'s auto focus is still highly responsive and able to provide fast focus with high precision.
Advanced iFCL Metering System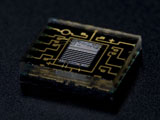 EOS 600D(KISSx5)
's iFCL (Intelligent Focus, Color, Luminance) metering system, includes a 63-zone dual-layer metering sensor that reads both illumination and color spectrum, takes brightness and color information into account to ensure precise and accurate results in all lighting conditions. This avoids subjects in red to easily appear under-exposed when using ordinary metering system. When using Automatic AF point selection, the system also takes into account the information collected from the 9 AF points to recognize the subject's position and size for more accurate exposure. By also taking the light source readings into account, the system can minimize the physics-related focus shift caused by the difference in spectral characteristics.
What is more, this system has an ± 5 EV exposure compensation range for easy creation of high key, low key and bracketed exposure images for creating high dynamic range photos.
EOS Integrated Cleaning System
The materials of mirror box and shutter are highly resistant to dust adhersion; also a fluorine coating is applied to the filter in front of the sensor to resist dust. A self-cleaning sensor unit is built in to shake off the dust with ultrasonic vibration during startup and shutdown. The position of visible dust on the sensor can also be mapped and appended as "Dust Delete Data", the dust spots can be removed in the Dust Delete function with the bundled software.
Image Rating and JPEG resize function
For better management of large image database, photographers can rate their photos in-camera on a scale from 1 to 5 to indicate their preferences; this can facilitate image search and browsing. Once transferred from camera to computer, the tags of rating will be shown in a number of image editing and management programs, including Canon's DPP software. EOS 600D(KISSx5) also provides flexible JPEG file resize options for different usages.
3-inch Vari-Angle Clear View LCD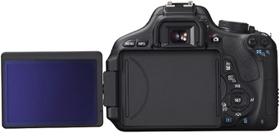 Featuring 3:2 aspect ratio and 1,040,000 dot resolution, EOS 600D(KISSx5)'s 3-inch wide vari-angle Clear View LCD provides low and high angles shooting flexibility. Special side-flip design is tailored for easy operation even during vertical shooting, using a tripod or the battery grip. The vari-angle wide LCD helps frame shots in Live View Mode from difficult angles to easily achieve the desired composition even without using the viewfinder. The ability to capture overhead shots or ground-level photos is instantly enhanced. Three layers of anti-reflection coating ensure clear image display even under sunlight.
5 In-camera Creative Filters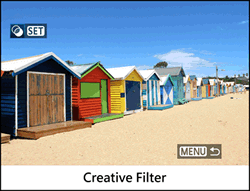 The new fish-eye effect is best for taking funny shots of pets and children; grainy B/W can create a hard-bitten documentary-like look; soft focus can soften skin tones; toy camera effect produces vignetting and color shift; miniature effect can simulate the look from a tilt-shift lens for a small-scale model look. Creative Filters can be applied on another filtered image to create unique mixed effects. Users can manipulate captured RAW or JPEG images in-camera without using a computer.
Multiple Aspect Ratios supported by Live View Shooting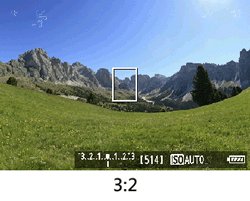 A range of aspect ratios are available to suit the needs of different subjects, scenarios and purposes. Standard 3:2 as in 135 format, 16:9 is good for expressing wide landscapes, 1:1 produces unique square format while 4:3 works best for DC users.
Integrated Speedlite Transmitter

EOS 600D(KISSx5) is built with an Integrated Speedlite Transmitter that can control two sets of speedlites as E-TTL II external flashes wirelessly. The new "Easy Wireless" mode makes the off-shoe flash settings easier by simply setting the speedlite as a wireless slave unit.
Full HD EOS Movie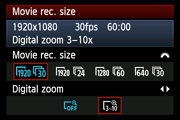 EOS 600D(KISSx5) supports 1920x1080 resolution full HD video, manual exposure settings, wind filter, external microphone input and sound recording output that can be set manually up to 64 levels, equipping EOS 600D with professional shooting flexibility. EOS Movies newly provides users with 3x to 10x digital magnification, so landscapes can be zoomed closer.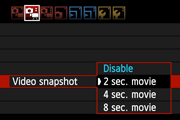 EOS 600D(KISSx5) features a new Video Snapshot function. A series of two-, four- or eight-second video snapshots can be recorded; the snapshots can then be assembled into a "Video Snapshot Album" for playback, producing movie-like montage effects. With the help of Canon's bundled ZoomBrowser EX / ImageBrowser, users can edit the sequences and tempo of their movies easily.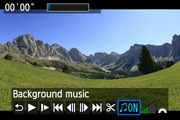 Background music can be added during the playback of "Video Snapshot Album" and "Slide Show", allowing users to share images and videos with families and friends in more creative ways. Users can add more background music choices in their movies with EOS Utility.

---
1x Canon EOS 600D(KISSx5) Body Digital SLR Camera
1x Battery Pack LP-E8
1x Battery Charger LC-E8E
1x Power Cord
1x Interface Cable
1x AV Cable AVC-DC400ST
1x Wide Strap EW-100DB III
1x EOS DIGITAL Solution Disk (CD-ROM)
1x Software Instruction Manual (CD-ROM, PDF)
1x Camera Instruction Manual (CD-ROM, PDF)
1x Pocket Guide
1x CD-ROM Guide
1 Year warranty in Australia.
* Picture and specifications are for illustration purposes only. Actual product may differ from that pictured.
** While every attempt is made to ensure the information provided on this page is accurate, specifications change from time to time and we are not liable

---
Enter your email address to be notified when this product becomes available.
---
What is Direct Shipping Offer?
For Digital Camera (and Lens), Video Camcorder or Mobile Phone orders - the items will be shipped directly from Overseas Supplier by Fedex, DHL or EMS. It take 3-7 working days (plus Handling Time) to arrive Australia wide.
For Other orders - the items will be shipped directly from overseas supplier by Registered Air Parcel. It takes 2-4 weeks (plus handling time) to arrive Australia wide.
How is the Warranty Work?
ShoppingSquare.com.au Australia provide Australian local Warranty Service for all the Direct Ship Offer items
Is the Tax invoice provided?
Yes, Tax invoice is provided for warranty purpose
How about GST and Custom Duty?
For the order value less than AU$1,000 - No GST or Custom Duty has to pay . please check Australia Custom web site http://www.customs.gov.au/site/page5549.asp
For the order valus over AU$,1000 - Australian Custom Clearance Service is provided by Fedex or DHL, we will provide all necessary documents bundle with the parcels. Customer may need to pay GST, Duty and Custom Clearance fee for Custom Clearance.
What happen if my order get lost in transit?
For your peace of mind, all the items are shipped with Insurance covered, replacement will be sent to you once the parcel is confirmed missing in transit.
Direct Shipping Offer - ShoppingSquare.com.au is providing a platform for Australian buyers to purchase oversea item directly from oversea suppliers. ShoppingSquare.com.au will provide Australian base warranty for the item sold via direct shipping offer. Buyer remain as an importer for the items purchased from Direct Shipping Offers.

---

Canon EOS 600D(KISSx5) Body Digital SLR Camera ( Code: P41056 )
Deal: $439.95
(Out Of Stock)
You might also be interested in: