Nikon D5100 Kit (18-55mm VR) Digital SLR Camera
( Code: (DS)DC-NIK-D5100-KIT-18-55MM )
Tell your friends about this sale at:

---

Twitter

Don't Pay: $899.00

Deal: $419.95

Save: $479.05(53%)

Estimated Handling Time: 3 - 8 Working Days

* Buy now to earn 4199 points

Nikon D5100 Kit (18-55mm VR) Digital SLR Camera, AF-S DX NIKKOR 18-55mm f/3.5-5.6G VR - 1 Year Warranty in Australia - DS

1 Year Warranty in Australia
Direct Shipping Offer*
Special effects mode that enables various creative effects in still images and movies. [NEW] ...more
16.2 effective megapixels. Nikon DX-format CMOS sensor. ...more
Image processing engine "EXPEED 2" that achieves high image quality, high-speed image processing and multiple functions. ...more
Wide sensitivity range of ISO 100 to 6400, expandable to Hi 2 (ISO 25600 equivalent) delivers sharp images with reduced blur caused by camera shake even in dark lighting situations and sports scenes. ...more
Fast and accurate 11-point AF system that captures even moving subjects. ...more
Live View shooting function that lets you focus on a desired point within the frame. ...more
Scene Auto Selector that automatically selects the most appropriate scene mode according to the shooting scenes or subjects. ...more
16 options of Scene Modes enable you to select the most appropriate mode according to your shooting scenes or subjects. ...more
HDR (High Dynamic Range) that allows you to shoot easily even in a difficult high-contrast scene. [NEW]
...more
Lightweight and compact, user-friendly body with superior operability. ...more
Easy-to-use in-camera image-editing functions such as NEW (RAW) processing, filter effects and edit movie. ...more

---
ï»ï»
Changes your photographic expression with unique angles —
shooting with the vari-angle LCD monitor
The D5100 incorporates an approx. 921k-dot, 7.5-cm (3-in.), wide-viewing-angle, vari-angle LCD monitor that realizes comfortable movie and Live View shooting. The LCD monitor opens horizontally from 0° to 180° and flips up and down from +180° to -90°. Highly improved operability when shooting from a high or low angle allows you to shoot with a stable posture while confirming composition even if shooting from ground level. You can enjoy new, creative expressions by shooting from various angles and discover unique points of view.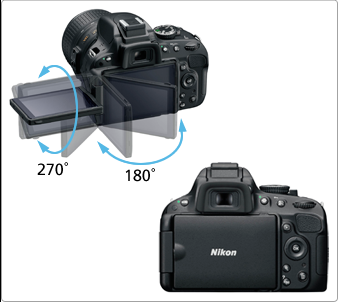 The LCD monitor is protected from dirt or damage because it can be stored when not in use.
ï»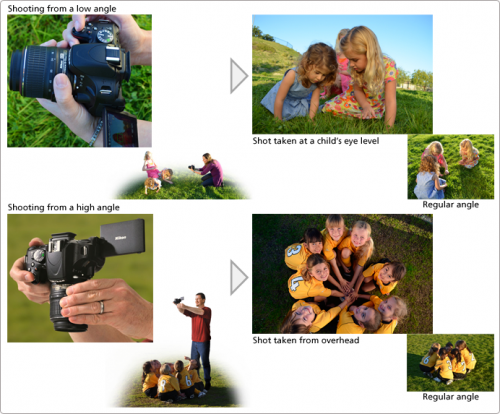 ï»
ï»
Various scenes captured taking advantage of the vari-angle LCD monitor
High angle
It is easy to shoot from a high angle holding the camera with an outstretched arm, even if there are many people standing in front of you.
Self-portrait
You can compose your image precisely by checking the LCD monitor facing you.
Tripod shooting
The horizontal swing-out LCD monitor makes it easy to shoot with a tripod. Remote close-up shooting is available using the rear infrared receiver to prevent image blur caused by camera shake.
Allows you to compose your photograph precisely and focus on a desired point viewing the LCD monitor — Live View shooting
Live View shooting gets the most out of the vari-angle LCD monitor. You can shoot while confirming your subject with the large, easy-to-view, 7.5-cm (3-in.) VGA (approx. 921k-dot), wide-viewing-angle (170°), 100% frame coverage LCD monitor. The dedicated Live View switch realizes simple, smooth switching from shooting with the finder to Live View shooting. Also, contrast-detect AF lets you focus on a desired point within a frame.
ï»
ï»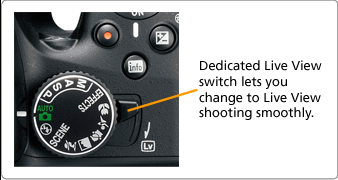 Three focus modes — selectable according to your subject
-Single-servo AF (AF-S)
Suitable for a stationary subject such as landscapes, architecture or flowers
.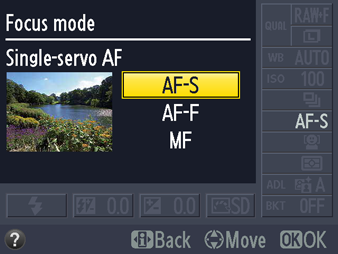 -Full-time-servo AF (AF-F)
Convenient for shooting a moving subject which is usually difficult to focus on, such as a child or pet. Available in both Live View mode and movie recording. Camera focuses continuously, after shooting starts.
-Manual focus (MF)
Manual focusing. Suitable for a subject for which autofocus is difficult, such as an animal in a cage or a person in the shade with the sun in the background.
Four AF-area modes — automatically focus on someone's face or a moving subject
-Face-priority AF
Suitable for focusing on someone's face such as for a commemorative photo.
-Wide-area AF
Suitable for handheld shooting such as for a landscape. AF area can be moved to a desired point within the frame.
-Normal-area AF
Convenient for shooting with pin-point focus such as for a close-up of a flower. Using a tripod is recommended for more precise focusing.
-Subject-tracking AF
After focusing is activated, AF area tracks the subject automatically. Suitable for a moving subject such as a child or pet.
Recommended combination of focus mode and AF-area mode
Single-servo AF and wide-area AF
Suitable for a stationary subject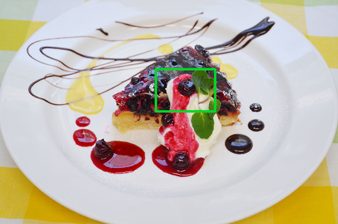 Records movies more beautifully and easily —full HD movie-recording function: D-Movie
The D5100 offers high-image-quality full HD movie recording at 1,920 x 1,080/30p. You can shoot creative movies easily, not only taking advantage of shallow depth of field, high ISO sensitivity performance and a variety of interchangeable NIKKOR lenses of digital SLR cameras but also utilizing the vari-angle LCD monitor and special effects mode of the D5100.
Contrast-detect AF is possible and if you set full-time-servo AF (AF-F) for focus mode and subject-tracking AF for AF-area mode, focus point tracks even a moving subject continuously and three-dimensionally.
Optional Stereo Microphone ME-1 compatible
In addition to monaural recording with the built-in microphone, the D5100 lets you record stereo sound with optional Stereo Microphone ME-1. Using Stereo Microphone ME-1 also reduces noise caused by lens vibration being recorded during autofocus shooting.
Furthermore, you can select the sensitivity level for either the built-in microphone or Stereo Microphone ME-1, choosing from auto, high, medium or low according to shooting conditions. Select low for scenes in louder environments, such as a concert hall; high for quieter environments, with more delicate sounds, such as a murmuring stream.
In-camera movie editing functions
You can edit your movie easily without a PC. It is possible to delete unwanted parts by choosing the start or end point in single frame units, and save a selected frame as a JPEG image with the same image size as that of the selected movie frame.
D-Movie frame size, frame rate and maximum recording time
Movie quality

Quality

Bit rate (high/normal quality)

Maximum length

Frame size (pixels)

Frame rate

1,920 x 1,080

30p (29.97 fps)1, 2

★ high/normal

18 Mbps/10 Mbps

20 min.4

25p (25 fps)2, 3

24p (23.976 fps)

1,280 x 720

30p (29.97 fps)1

10 Mbps/6 Mbps

25p (25 fps)3

24p (23.976 fps)

8 Mbps/5 Mbps

640 x 424

30p (29.97 fps)1

4 Mbps/2 Mbps

25p (25 fps)3
Available when NTSC is selected for video mode.
Not output to television during recording.
Available when PAL is selected for video mode.
Movies recorded in miniature effect mode are up to 3 minutes long when played back.
Sample movie
Note: The video shown here was taken using the D-Movie function, then converted to Flash Video format for ease of handling. Image quality varies from the original.

---
1x Nikon D5100 Digital SLR Camera
1x AF-S DX NIKKOR 18-55mm f/3.5-5.6G VR (3.0x) Lens
1x Rechargeable Li-ion Battery EN-EL14
1x Battery Charger MH-24
1x Eyepiece Cap DK-5, Rubber Eyecup DK-20
1x USB Cable UC-E6, Audio Video Cable EG-CP14
1x Camera Strap AN-DC3, Body Cap BF-1B
1x Accessory Shoe Cover BS-1
1x ViewNX 2 CD-ROM
1 Year warranty in Australia.
* English instruction manual on Disc only
* Picture and specifications are for illustration purposes only. Actual product may differ from that pictured.
** While every attempt is made to ensure the information provided on this page is accurate, specifications change from time to time and we are not liable.
---
What is Direct Shipping Offer?
For Digital Camera (and Lens), Video Camcorder or Mobile Phone orders - the items will be shipped directly from Overseas Supplier by Fedex, DHL or EMS. It take 3-7 working days (plus Handling Time) to arrive Australia wide.
For Other orders - the items will be shipped directly from overseas supplier by Registered Air Parcel. It take 10-15 working days to arrive Australia wide.
How is the Warranty Work?
ShoppingSquare.com.au Australia provide Australian local Warranty Service for all the Direct Ship Offer items
Is the Tax invoice provided?
Yes, Tax invoice is provided for warranty purpose
How about GST and Custom Duty?
For the order value less than AU$1,000 - No GST or Custom Duty has to pay . please check Australia Custom web site http://www.customs.gov.au/site/page5549.asp
For the order valus over AU$,1000 - Australian Custom Clearance Service is provided by Fedex or DHL, we will provide all necessary documents bundle with the parcels. Customer may need to pay GST, Duty and Custom Clearance fee for Custom Clearance.
What happen if my order get lost in transit?
For your peace of mind, all the items are shipped with Insurance covered, replacement will be sent to you once the parcel is confirmed missing in transit.

---

Nikon D5100 Kit (18-55mm VR) Digital SLR Camera ( Code: (DS)DC-NIK-D5100-KIT-18-55MM )
Don't Pay: $899.00
Deal: $419.95
Save: $479.05(53%)
* Buy now to earn 4199 points
You might also be interested in: