Sony ILCE-6500 Premium E-Mount APS-C 4K DSLR Digital Camera Body Black
( Code: P67833 )
Deal:
$
1,679.00
$2,199.00
Save: $520.00 (24%)
Availability:

In Stock
Estimated Handling Time: 3 - 7 Working Days
Sony ILCE-6500 Premium E-Mount APS-C 4K DSLR Digital Camera Body Black
Fastest (0.05 s) AF with 425 phase-detection AF points
Built-in 5-axis image stabilization
24.2-megapixel Exmor® CMOS sensor for outstanding light sensitivity
BIONZ X™ image processing engine for superior detail reproduction
4K movie recording with full pixel readout/no pixel binning
Description
α6500 - The palm-sized all-around all-star
With unerring autofocus, unshakeable stability and intuitive touchscreen operation crafted to fit in a palm, the α6500 is so ideal everywhere that you never need to miss a moment.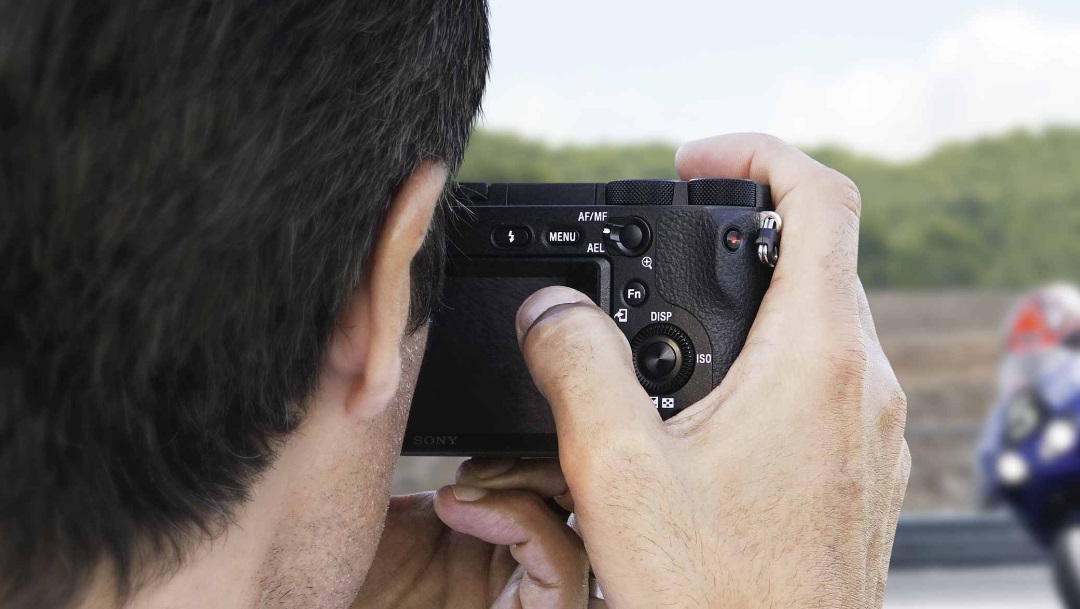 Expand your shooting range
Meet the α6500 — the APS-C interchangeable lens compact camera that puts the power to shoot professional-looking stills and movies solidly in your hands. An enhanced buffer for continuous shooting of up to 307 shots, in-camera 5-axis optical image stabilization, touchscreen control, super-speed AF and High-density Tracking AF Technology extend the range of your shooting capabilities.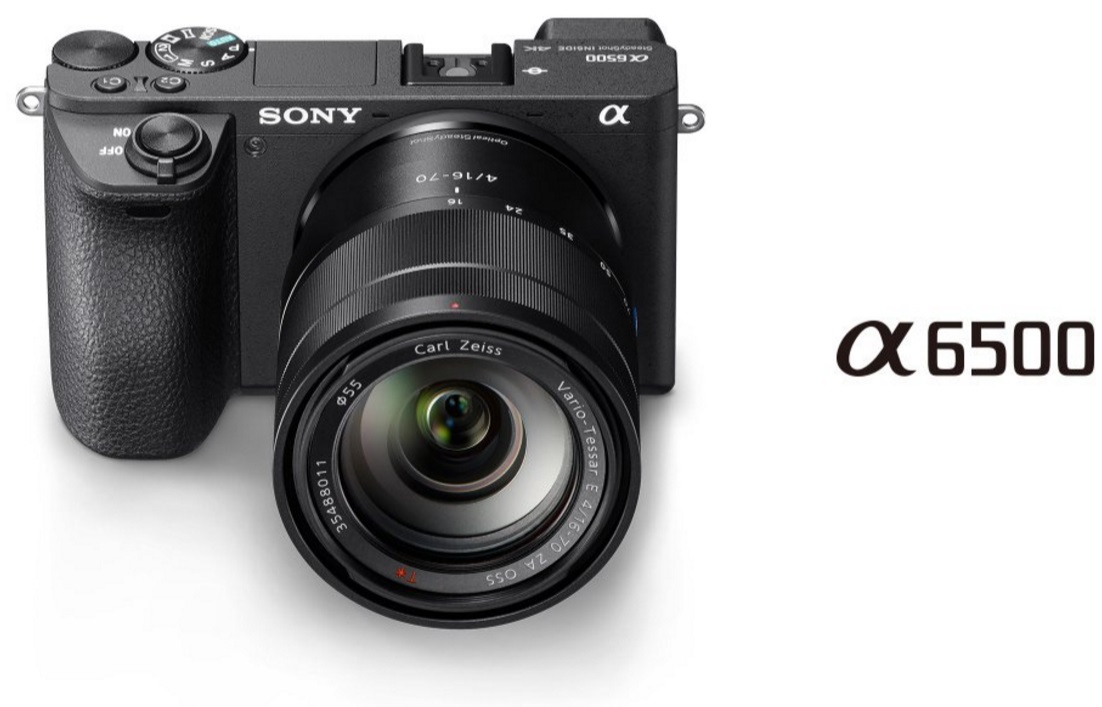 Extended continuous shooting buffer
Approx. 36-s/307-shot continuous shooting capacity
5-axis image stabilization
Camera shake compensation effect of five-stops-faster shutter speed
Touch to focus immediately
Touch to focus or swipe to shift focus while looking at the viewfinder.
Focus at top speed
Capture every moment — the world's fastest AF speed and highest number of AF points respond flawlessly to virtually any shooting situation.
World's highest number (4255) of phase-detection AF points - Wide phase-detection AF point coverage
With an incredible 425 focal plane phase-detection AF points densely positioned over the entire image area, this comprehensive AF point coverage ensures that no subject escapes its attention.
Extended buffer for continuous shooting
With the α6500 extending continuous shooting capacity to 307 shots without any drop in shooting speed (for around 36 s with AF/AE tracking), you won't miss a decisive moment.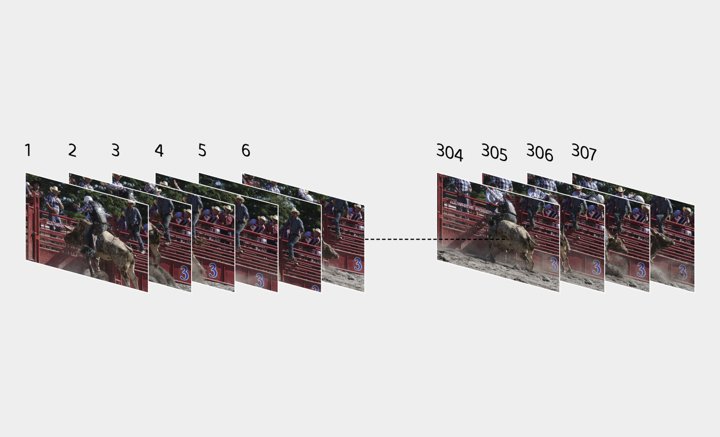 Live-view continuous shooting with minimal lag - Shoot moving subjects with optical viewfinder-like immediacy
In live-view continuous shooting at up to 8fps, display lag is kept to an absolute minimum, so you can capture moving subjects as they appear on the EVF or LCD, with optical viewfinder-like immediacy.
Counteracting five types of camera shake - 5.0-stops-faster shutter speed effect
A new, very accurate gyro sensor is a key to image stabilization with the effect of a five-stops-faster shutter speed. This camera shake compensation system is effective for shooting steadier, clearer movies and still images.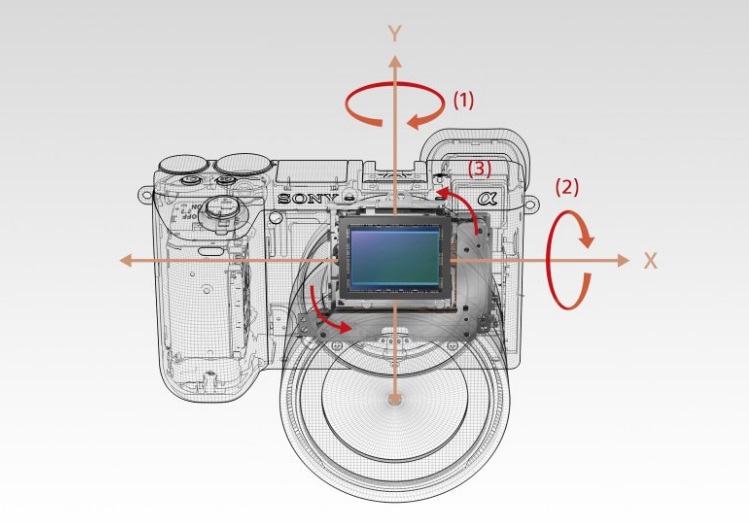 Minimize camera shake, even using various lenses - 5-axis stabilization works with E-mount and other lenses
Gain unparalleled handheld shooting freedom using many of your favorite lenses. The short flange-back distance in the E-mount α6500 contributes to broad lens compatibility.
E-mount lenses
Learn about the great selection of lenses you can mount directly on the α6500 at the following:
A-mount lenses
LA-EA4, LA-EA3, LA-EA2* or LA-EA1* *Images are recorded in APS-C format.
With an A-mount lens adaptor, you have even more lenses to choose from the following:
Other lenses
Third-party adaptors
For extra versatility, the camera's image stabilization system even functions when a lens with another type of mount is attached.
Touch Pad Function - Swipe screen to shift focus point while watching viewfinder
With the Touch Pad function, you can swipe the LCD touchscreen to shift focus point intuitively and easily from one area to another, even as you monitor the viewfinder.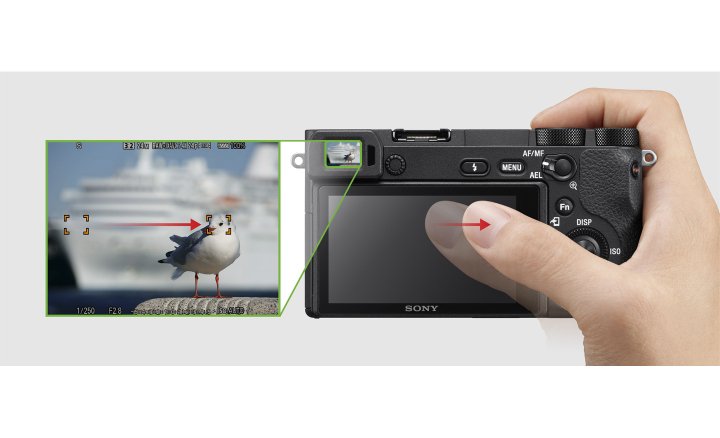 Immediate focus point selection by touch - Use just your finger to focus as you like within the frame
Touch Focus makes it particularly easy to adjust focus quickly, so you don't miss the chance to capture your chosen subject at the decisive moment.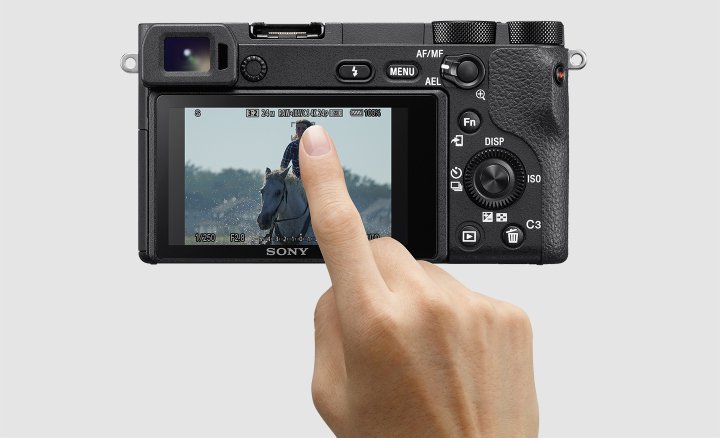 For more dynamic image depiction
With new front-end LSI, BIONZ X™ processes data from the Exmor® CMOS image sensor for outstanding texture, clarity, and image sharpness with low noise in stills and movies.
Extra image sensor perception
This sensor has a thin wiring layer and large photodiode substrate that maximize light collection efficiency and copper wiring ensuring quick read-out. It also extends sensitivity to ISO 512008 with reduced noise.
(A) Conventional structure (B) α6500 structure
(1) Photodiode substrate (2) Light receiving surface (3) Aluminum wiring layer (4) Copper wiring layer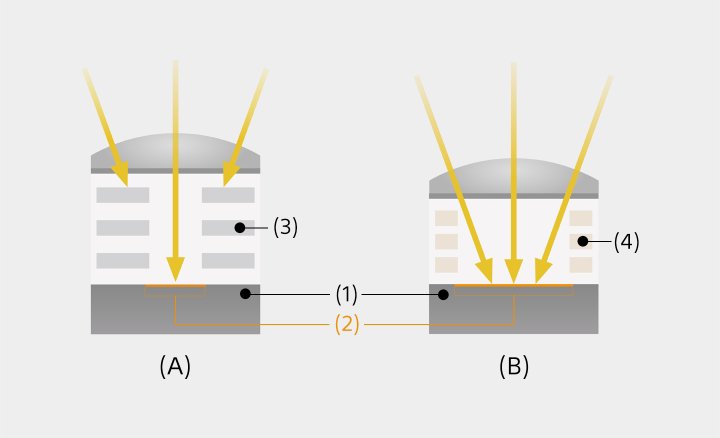 Enhanced image processing system
The BIONZ X™ image processing engine enhances image texture and clarity as it minimizes noise, with critical support from new front-end LSI and image processing algorithm optimized for the image sensor.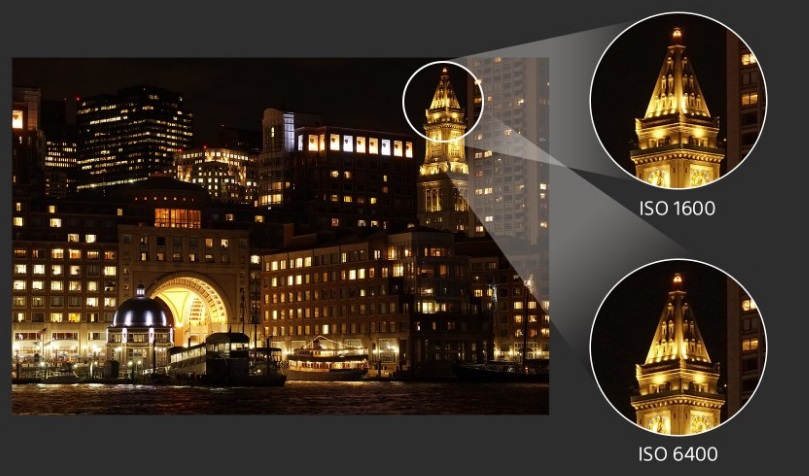 High-quality 4K recording
Shoot and internally record 4K movies generated from 6K equivalent (20 MP) data in Super 35 mm10 format. Intuitive Touch Focus and 5-axis image stabilisation extend shooting freedom.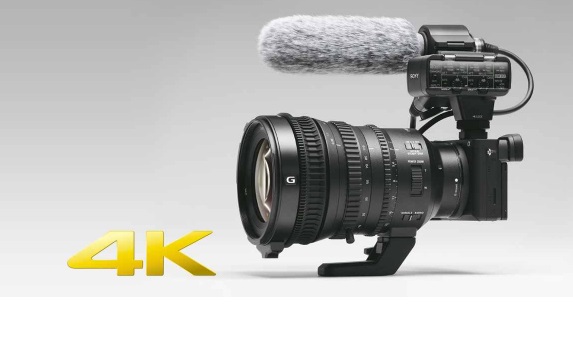 Tough, reliable integrity for smart, smooth operation
A magnesium alloy body, a shutter tested to 200,000 release cycles and more highlight the camera's all-around toughness, reliability and operability.

UPC : 027242895706
Specifications
Lens
LENS COMPATIBILITY
Sony E-mount lenses

LENS MOUNT
E-mount
Image Sensor
ASPECT RATIO
3 : 2

NUMBER OF PIXELS (EFFECTIVE)
Approx. 24.2 megapixels

NUMBER OF PIXELS (TOTAL)
Approx. 25.0 megapixels

TYPE
APS-C type (23.5 x 15.6 mm), Exmor® CMOS sensor

ANTI-DUST SYSTEM
Charge protection coating on optical filter and image sensor shift mechanism
Recording (still images)
RECORDING FORMAT
JPEG (DCF Ver. 2.0, Exif Ver.2.31, MPF Baseline compliant), RAW (Sony ARW 2.3 format)

IMAGE SIZE (PIXELS) [3:2]
L: 6000 x 4000 (24M), M: 4240 x 2832 (12M), S: 3008 x 2000 (6.0M)

IMAGE SIZE (PIXELS) [16:9]
L: 6000 x 3376 (20 M), M: 4240 x 2400 (10 M), S: 3008 x 1688 (5.1 M)

IMAGE SIZE (PIXELS) [SWEEP PANORAMA]
Wide: horizontal 12,416 x 1,856 (23 M), vertical 5,536 x 2,160 (12 M), Standard: horizontal 8,192 x 1,856 (15 M), vertical 3,872 x 2,160 (8.4 M)

IMAGE QUALITY MODES
RAW, RAW & JPEG, JPEG Extra fine, JPEG Fine, JPEG Standard

PICTURE EFFECT
13 types: Posterization (Color), Posterization (B/W), Pop Color, Retro Photo, Partial Color (R/G/B/Y), High Contrast Monochrome, Toy Camera (Normal/Cool/Warm/Green/Magenta), Soft High-key , Soft Focus (High/Mid/Low), HDR Painting (High/Mid/Low), Rich-tone Monochrome, Miniature (Auto/Top/Middle (H)/Bottom/Right/Middle (V)/Left), Watercolor, Illustration (High/Mid/ Low)

CREATIVE STYLE
Standard, Vivid, Neutral, Clear, Deep, Light, Portrait, Landscape, Sunset, Night Scene, Autumn leaves, Black & White, Sepia, Style Box(1-6), (Contrast (-3 to +3 steps), Saturation (-3 to +3 steps), Sharpness (-3 to +3 steps))

PICTURE PROFILE
Yes (Off / PP1-PP9) Parameters: Black level, Gamma (Movie, Still, Cine1-4, ITU709, ITU709 [800%], S-Log2, S-Log3), Black Gamma, Knee, Color Mode, Saturation, Color Phase, Color Depth, Detail, Copy, Reset

DYNAMIC RANGE FUNCTIONS
Off, Dynamic Range Optimizer (Auto/Level (1–5)), Auto High Dynamic Range (Auto Exposure Difference, Exposure Difference Level (1-6 EV, 1.0 EV step))

COLOR SPACE
sRGB standard (with sYCC gamut) and Adobe RGB standard compatible with TRILUMINOS Color

RAW OUTPUT
14bit RAW
UNCOMPRESSED RAW
-
Recording System
LOCATION INFORMATION LINK FROM SMARTPHONE
Yes

MEDIA
Memory Stick PRO Duo, Memory Stick PRO-HG Duo, Memory Stick Micro(M2), SD memory card, SDHC memory card (UHS-I compliant), SDXC memory card (UHS-I compliant), microSD memory card, microSDHC memory card, microSDXC memory card

MEMORY CARD SLOT
Multi-slot reader for Memory Stick Duo™/SD memory card
Noise Reduction
NOISE REDUCTION
Long exposure NR: On/Off , available at shutter speeds longer than 1 sec., High ISO NR: Normal/Low/Off

MULTI FRAME NR
Auto/ ISO 100 to 51200
Focus
FOCUS TYPE
Fast Hybrid AF(phase-detection AF/contrast-detection AF)2

FOCUS SENSOR
Exmor® CMOS sensor

FOCUS POINT
425 points (phase-detection AF) / 169 points (contrast-detection AF)

FOCUS SENSITIVITY RANGE
EV-1 to EV 20 (ISO 100 equivalent with F2.0 lens attached)

FOCUS MODE
AF-A (Automatic AF), AF-S (Single-shot AF), AF-C ( Continuous AF), DMF (Direct Manual Focus), Manual Focus

FOCUS AREA
Wide (425 points (phase-detection AF), 169 points(contrast-detection AF)) / Zone / Center / Flexible Spot (S/M/L) /Expanded Flexible Spot/ Lock-on AF ( Wide / Zone / Center / Flexible Spot (S/M/L)/Expanded Flexible Spot)

OTHER FEATURES
Eye-start AF (only with LA-EA2 or LA-EA4 attached(Sold separately)), Lock-on AF, Eye AF, AF micro adjustment, (Sold separately), with LA-EA2 or LA-EA4, Predictive control, Focus lock

AF ILLUMINATOR
Yes (with Built-in LED type)

AF ILLUMINATOR RANGE
Approx. 0.3–approx. 3.0 m (with E PZ 16–50 mm F3.5–5.6 OSS lens attached)

FOCUS TYPE WITH LA-EA3 (SOLD SEPARATELY)
selectable(phase-detection, contrast-detection)
Exposure
METERING TYPE
1200-zone evaluative metering

METERING SENSOR
Exmor® CMOS sensor

METERING SENSITIVITY
EV-2 to EV20 (at ISO100 equivalent with F2.0 lens attached)

METERING MODE
Spot (Standard/Large), Entire Screen Avg., Highlight)

EXPOSURE COMPENSATION
+/- 5.0EV(1/3 EV, 1/2 EV steps selectable)

EXPOSURE BRACKETING
Bracket: Cont., Bracket: Single, 3/5/9 frames selectable. With 3 or 5 frames, in 1/3, 1/2, 2/3, 1.0, 2.0, or 3.0 EV increments, with 9 frames, in 1/3, 1/2, 2/3, or 1.0 EV increments.

AE LOCK
Locked when shutter button is pressed halfway. Available with AE lock button. (On/Off/Auto)

EXPOSURE MODES
AUTO (iAuto/Superior Auto), Programmed AE (P), Aperture priority (A), Shutter-speed priority (S), Manual (M), Movie / Sl&Q Motion (Programmed AE (P) / Aperture priority (A) /Shutter-speed priority (S) / Manual (M) ), Sweep Panorama, Scene Selection

ISO SENSITIVITY (RECOMMENDED EXPOSURE INDEX)
Still images: ISO 100-25600 (ISO numbers up to ISO 51200 can be set as expanded ISO range.), AUTO (ISO 100-6400, selectable lower limit and upper limit), Movies: ISO 100-25600 equivalent, AUTO (ISO 100-6400, selectable lower limit and upper limit)

ANTI-FLICKER SHOOT.
-

SCENE SELECTION
Portrait, Sports Action, Macro, Landscape, Sunset, Night Scene, Hand-held Twilight, Night Portrait, Anti Motion Blur
Viewfinder
VIEWFINDER TYPE
0.39 type (1.0 cm) electronic viewfinder (color), XGA OLED

NUMBER OF DOTS
2,359,296 dots

BRIGHTNESS CONTROL (VIEWFINDER)
Auto/Manual (5 steps between -2 and +2)

COLOR TEMPERATURE CONTROL
Manual (5 steps)

FIELD COVERAGE
100%

MAGNIFICATION
Approx. 1.07x (35 mm camera equivalent: Approx. 0.70x) with 50 mm lens at infinity, -1m-1

DIOPTER ADJUSTMENT
-4.0-+3.0 m-1

EYE POINT
Approx. 23 mm from the eyepiece lens, 21.4 mm from the eyepiece frame at -1m-1 (CIPA standard)

FINDER FRAME RATE SELECTION
Yes (1x, 2x)

DISPLAY CONTENTS
Graphic Display, Display All Info. No Disp. Info. Digital Level Gauge, Histogram
LCD Screen
TYPE
2.95 in (3.0-type) wide type TFT

NUMBER OF DOTS
921,600 dots

TOUCH PANEL
Yes

BRIGHTNESS CONTROL
Manual (5 steps between -2 and +2), Sunny Weather mode

ADJUSTABLE ANGLE
Up by approx. 90 degrees, Down by approx. 45 degrees

DISPLAY SELECTER (FINDER/LCD)
Yes (Auto/Manual)

REAL-TIME IMAGE ADJUSTMENT DISPLAY (LCD)
On/Off

QUICK NAVI
Yes

FOCUS MAGNIFIER
Yes Focus Magnifier (5.9x, 11.7x)

ZEBRA
Yes, (selectable level + range or lower limit as custom setting)

PEAKING MF
Yes (Level setting: High/Mid/Low/Off, Color: White/Red/Yellow)

OTHERS
WhiteMagic, Grid Line, (Rule of 3rds Grid/Square Grid/Diag. + Square Grid/Off), Movie Marker, (Center/Aspect/Safety Zone/Guideframe)

DISPLAY CONTENT
Graphic Display, Display All Info, No Disp. Info, Digital Level Gauge, Histogram, For viewfinder
Shutter & Image Stabilization
SHUTTER
TYPE
Electronically controlled, vertical-traverse, focal-plane type

SHUTTER SPEED
Still images:1/4000 to 30 sec, Bulb, Movies: 1/4000 to 1/4 (1/3 steps), up to 1/60 in AUTO mode (up to 1/30 in Auto slow shutter mode)

FLASH SYNC. SPEED
1/160 sec.4

ELECTRONIC FRONT CURTAIN SHUTTER
Yes (ON/OFF)

SILENT SHOOTING
Yes (ON/OFF)


IMAGE STABILIZATION
TYPE
Image Sensor-Shift mechanism with 5-axis compensation (compensation depends on lens specifications)

COMPENSATION EFFECT
5.0 steps (based on CIPA standard. Pitch/yaw shake only. With Sonnar T* FE 55 mm F1.8 ZA lens mounted. Long exposure NR off.)
Power / Size & Weight
SUPPLIED BATTERY
One rechargeable battery pack NP-FW50

BATTERY LIFE (STILL IMAGES)
Approx. 310 shots (Viewfinder) / approx. 350 shots (LCD monitor) (CIPA standard)9

BATTERY LIFE (MOVIE, ACTUAL RECORDING)
Movies (actual recording):Approx. 65 min (Viewfinder) / Approx. 70 min (LCD monitor) , (CIPA standard)1011

BATTERY LIFE (MOVIE, CONTINUOUS RECORDING)
Movies (continuous recording):Approx. 105 min (Viewfinder) / Approx. 105 min (LCD monitor), (CIPA standard)1012

INTERNAL BATTERY CHARGE
Yes

EXTERNAL POWER
AC Adapter AC-PW20 (sold separately)

POWER CONSUMPTION WITH VIEWFINDER
Still images: approx. 2.8W(with E PZ 16-50 mm F3.5-5.6 OSS lens attached), Movies: approx. 4.2W (with E PZ 16-50 mm F3.5-5.6 OSS lens attached)

POWER CONSUMPTION WITH LCD SCREEN
Still images: approx. 2.6W (with E PZ 16-50mm F3.5-5.6 OSS lens attached), Movies: approx. 4.2W (with E PZ 16-50 mm F3.5-5.6 OSS lens attached)

USB POWER SUPPLY
Yes

WEIGHT (WITH BATTERY AND MEMORY CARD INCLUDED)
Approx. 1 lb, Approx. 453 g

DIMENSIONS (W X H X D)
Approx. 120.0 mm x 66.9 mm x 53.3 mm, Approx. 4 3/4 x 2 3/4 x 2 1/8 inches
Interface
PC INTERFACE
Mass-storage, MTP, PC remote

MULTI/MICRO USB TERMINAL
Yes

NFC™
Yes (NFC forum Type 3 Tag compatible) One-touch remote, One-touch sharing

WIRELESS LAN (BUILT-IN)
Wi-Fi Compatible, IEEE 802.11b/g/n (2.4 GHz band), View on Smartphone, Send to Computer, View on TV, View on Smartphone, Send to Computer

BLUETOOTH®
Yes (Bluetooth Standard Ver. 4.1 (2.4 GHz band))

HD OUTPUT
HDMI micro connector (Type-D), BRAVIA Sync(Control for HDMI), PhotoTV HD, 4K movie output/4K still image PB

MULTI INTERFACE SHOE
Yes

MIC TERMINAL
Yes (3.5 mm Stereo minijack)

DC IN TERMINAL
-

SYNC TERMINAL
-

HEADPHONE TERMINAL
-

VERTICAL GRIP CONNECTOR
-

PC REMOTE
Yes
UPC
027242895706
Package Content
1 x Sony A6500 Camera Body
1 x Rechargeable Battery NP-FW50
1 x AC Adaptor: AC-UUD12
1 x Shoulder strap
1 x Body cap
1 x Accessory shoe cap
1 x Eyepiece cup
1 x Micro USB cable
1 Year Warranty in Australia
Accessories are NOT covered in Warranty
* Picture and specifications are for illustration purposes only. Actual product may differ from that pictured.
** While every attempt is made to ensure the information provided on this page is accurate, specifications change from time to time and we are not liable.
*** The exact colour of the item may be slightly different from the pictures because of factors, such as brightness settings from your computer.
**** Please allow 3-5% differences in manual measurements.
***** Package may be opened for random checking before dispatch.