Bulk Lots of SYMA RC Quadcopter, Android Tablet, HD Action Cam, Speaker & More Electronics
( Code: P67407 )
Tell your friends about this sale at:

---

Twitter

Deal: $199.95 GST Inc.

Out Of Stock
(Coming Soon)

Estimated Handling Time: 1 - 2 Working Days

Shipped from Australia

Brand New

Bulk Lots of SYMA RC Quadcopter, Speaker, Android Tablet, HD Action Camera & More Electronics Tech Accessories

**Pick up from Sydney Warehouse ONLY!!**

Store return item
Mixed Units of Pallet
Contain SYMA RC Quadcopter, Android Tablet, Wireless Bluetooth Headphones, Portable Speaker, Car Dash Camera, Wireless Keyboard for iPad, USB Powered Charging Hub, HDMI Cable & More
Item are possible faulty, some may missing parts or broken
Fix-up and earn your profit
Or recover the parts
*Pick up from Sydney Warehouse ONLY!*

---
Mechanics and Reseller delights!!
Here is your chance to sell! Pallet of liquidation, store return items and may/may not contain overstock items! Mixed units of SYMA RC Quadcopter, Wireless Bluetooth Headphones, Android Tablet, Portable Speaker, Wireless Keyboard for iPad, USB Powered Charging Hub, HDMI Cable & More Electronics
All you need to do is buy a pallet of combination , do a minimum fix-up and earn your profit!! (Battery and Charger are not included in this auction)
The variety we carry includes the wholesale priced categories as follow:
SYMA X5C Remote Control Quadcopter
Android PC Tablet
HD Action Camera
Wireless Headphones
Aluminum Bluetooth Keyboard Case for iPad
1080P Portable DVR Car Dash Cameras
Wireless Bluetooth Handsfree with Mic
Bluetooth Digital Smart Watch
Mini Portable Speaker
Miracast TV Dongle
4 Port USB 3.0 Powered Charging Hub
USB External Power Bank Charger
Mini Sports Helmet Video Camera with Clip & Bracket
SATA Dual HDD USB 3.0 Docking Station
Wired Joypad Game Controller
CREE 900lm Flashlight Torch
Night Vision LED Digital Watch
HDMI (V2.0) 4K Ultra HD Cables
Mini Display Port Display Male to HDMI Female Cable
Car Tape Cassette to AUX Audio Adapter
Digital Voice Recorder
Digital LCD Alcohol Breath Tester
Mini Portable Electric Battery operated Sewing Machine Tool
Electronic Drumsticks
RGB LED MP3 Disco Crystal Magic Ball Light
Premium Tempered Screen Protector for Samsung Galaxy S6
8-Pin Convertor to 30-Pin Adapter For Apple
3.1 Amp Dual Port USB Car Charger
2M 8Pin USB Lightning Charger Cable
4 Port USB Charger for Apple
6 in 1 Compass Thermometer
HDMI to VGA 3 RCA Convertor Adpater
Remote Control Dog Training Collar
10 in 1 Steam Mop
Stainless Steel Automatic Soap Sanitizer
Automatic Feeder
Blood Monitor
Solar Powered Sun Jar Lamp
12V 5W Warm White LED Light Bulb
Jewellery Earings & necklace
Inflatable Bed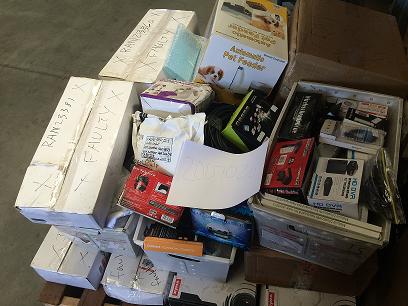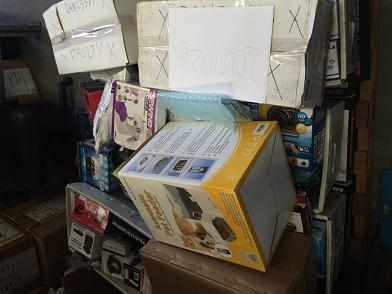 ---
Mixed items in one lot
All images are used for illustration purposes only. Actual items nay not be brand new condition
**Pick up at Sydney Warehouse ONLY!**
Items are sold at NO RETURN, NO REFUND basisBid Amount including GST from $1 with no reserve.
No cherry picking on designs and colors
All items are randomly picked
Model may vary from the photos
Battery and charger may or may not be included
Pick up at Sydney Warehouse ONLY

---
Enter your email address to be notified when this product becomes available.

---

Bulk Lots of SYMA RC Quadcopter, Android Tablet, HD Action Cam, Speaker & More Electronics ( Code: P67407 )
Deal: $199.95 GST Inc.
(Out Of Stock)
You might also be interested in: