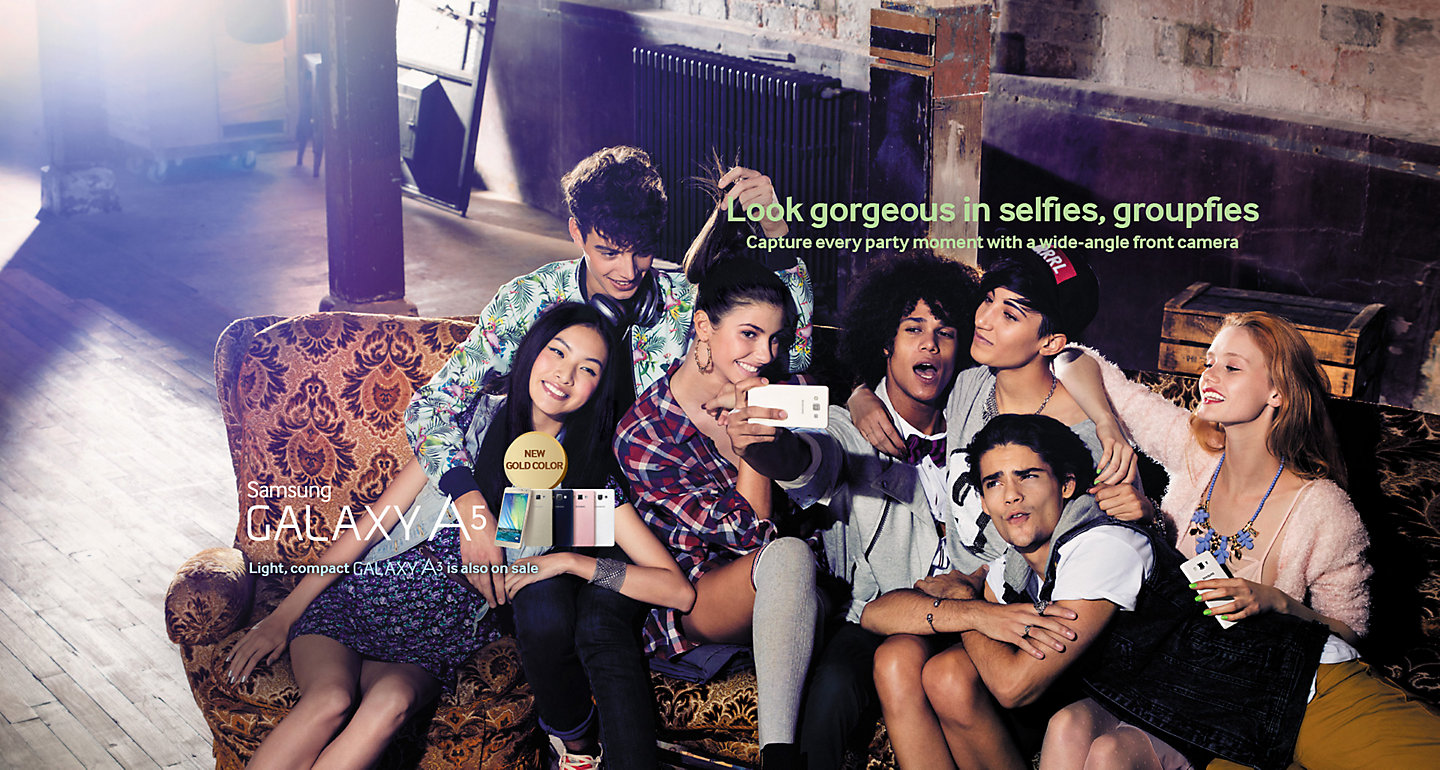 Premium metal design and stylish colors
The first Samsung smartphone with an ultra-slim metallic body, the Samsung Galaxy A5 (2015) boasts an innovative, luxurious design and a stunning 5" HD sAMOLED display. You can feel the premium quality of the sleek full metal body in your hand. You can choose the Samsung Galaxy A5 (2015) from various colors that best fits your personality and style.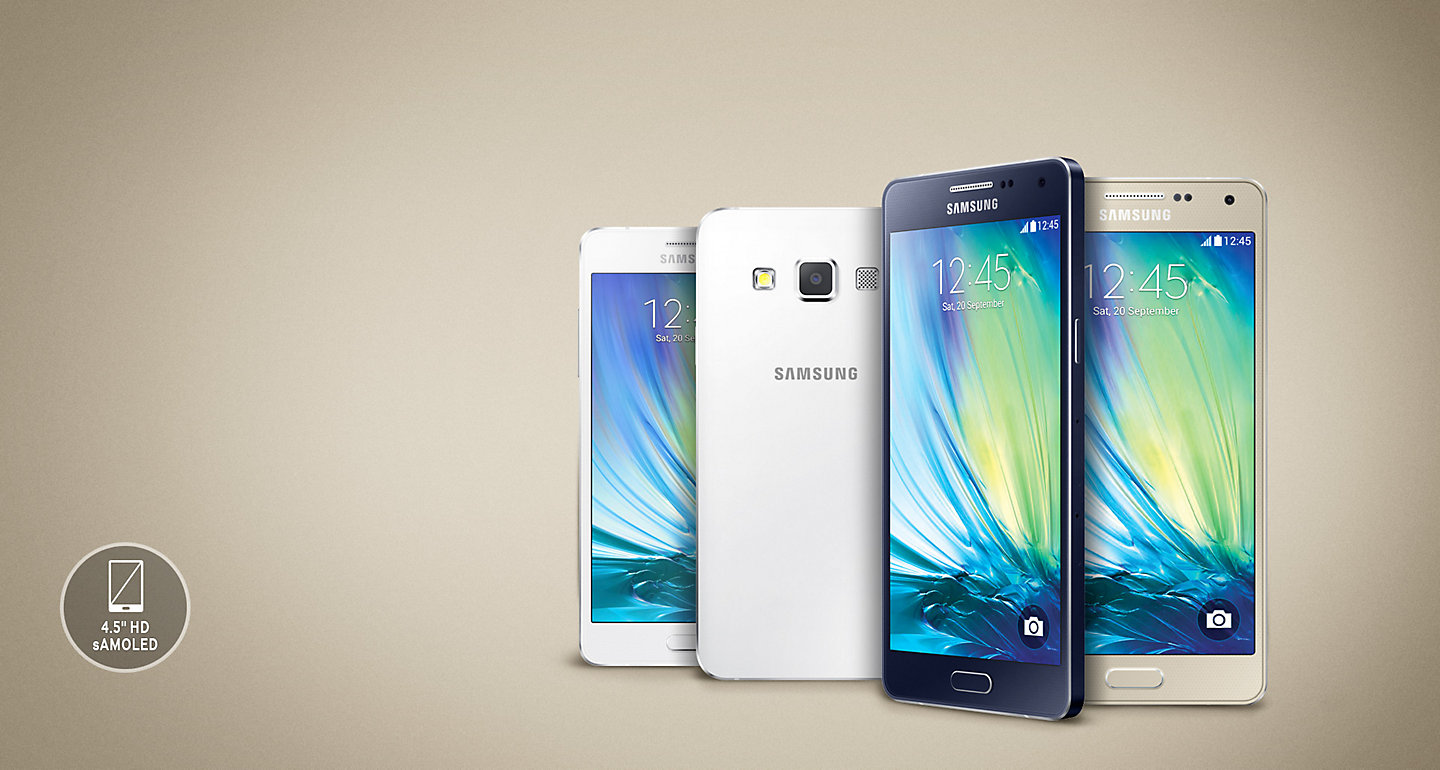 Smarter selfie shooting
Forearms weren't meant to be a distraction in your photos. With the Samsung Galaxy A5 (2015) you don't need to touch the button when taking selfies. Snap a selfie with your voice or palm and make your friends think your own personal photographer is following you around. With the latest image detection and voice recognition software, the Samsung Galaxy A5 (2015) is taking the selfie to the next level.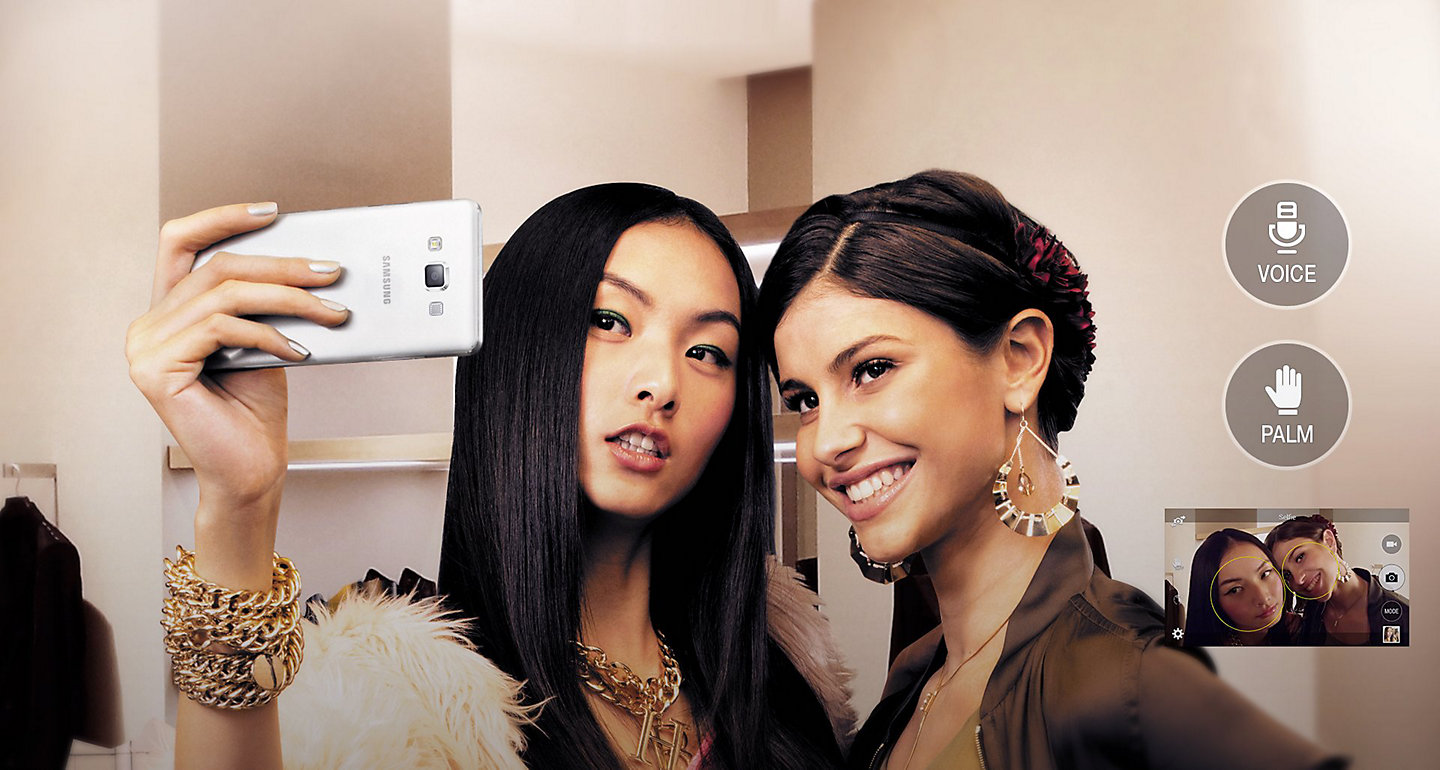 Group selfies with more friends
You have tons of friends. Finally your phone can fit them all into one shot! The new Wide Selfie function allows you to create a panorama-like selfie by merging three photos taken from the left/middle/right into one perfect group selfie up to 106° of range. The auto-editing functions make sure you look your best in every shot.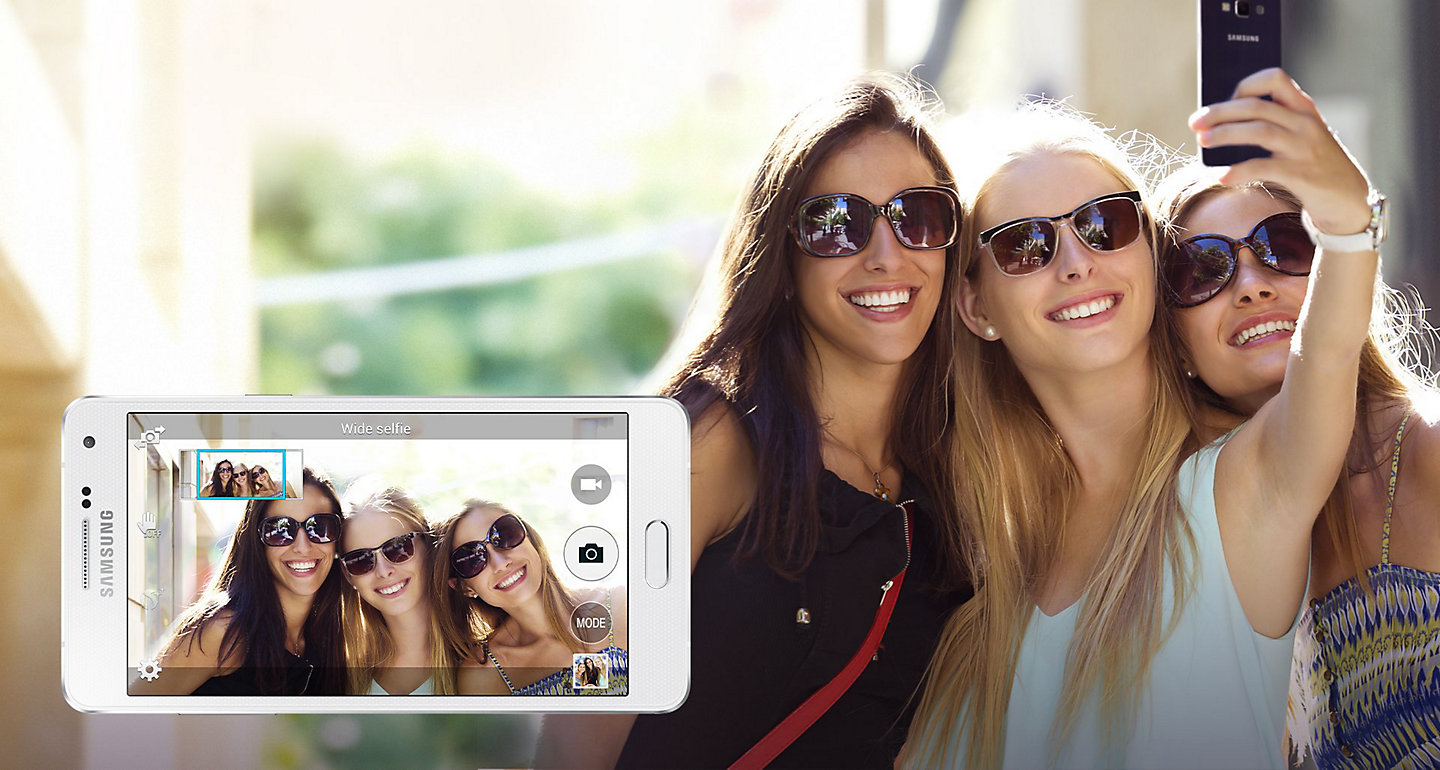 Adaptive display and sound
The Alive Super Amoled Display and the Adapt Display deliver true-to-life colors on your Samsung Galaxy A5 (2015) which intelligently adapt to your surroundings. With its automatic Adjustable Audio, your Samsung Galaxy A5 (2015) will automatically increase or decrease the volume in response to the background noise around you.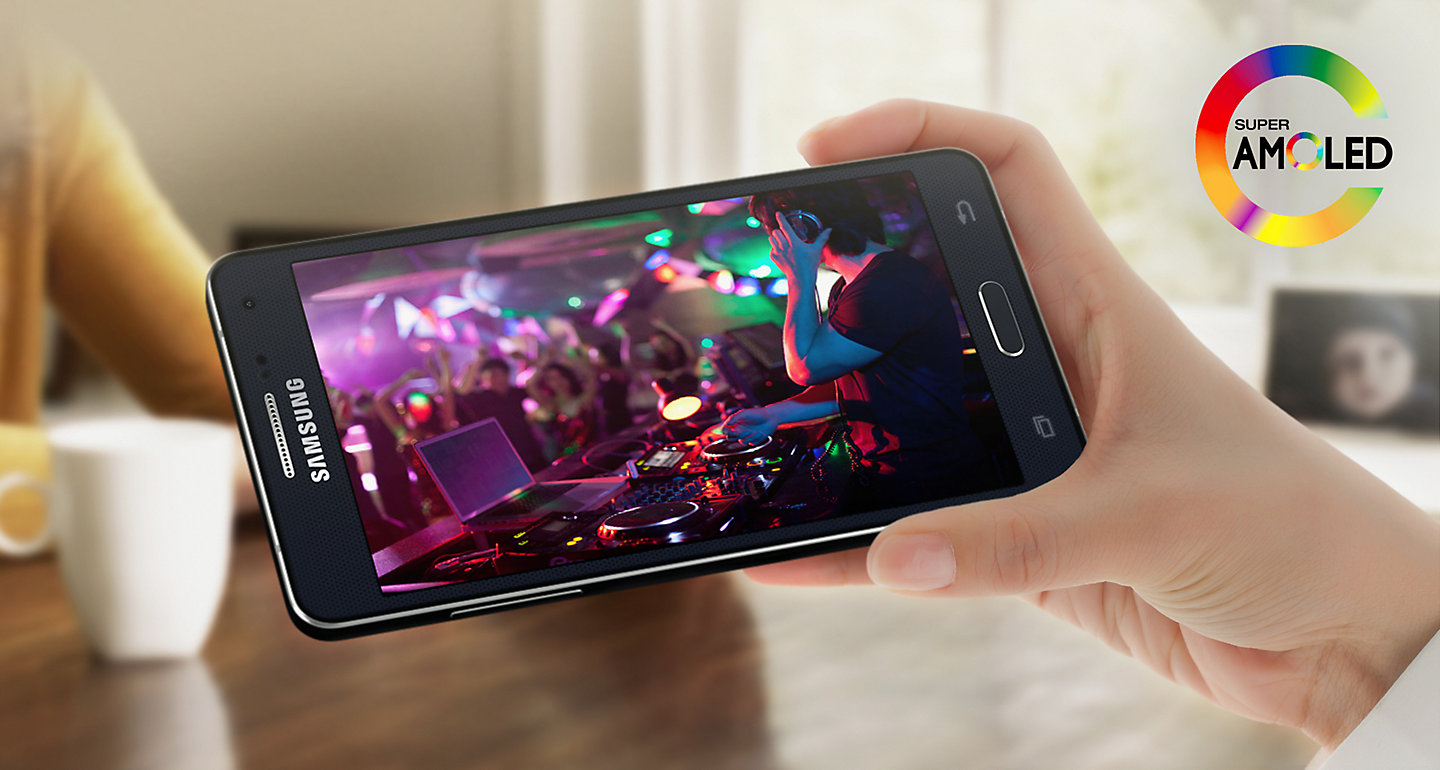 Fun selfie experience with animated GIF
Sometimes you need more than one photo to show what's going on. The Galaxy A5 (2015)'s Animated Selfie lets you record those longer moments by snapping up to 20 continuous photos and automatically creating a sharable GIF instead of a movie.
New interface and sound
Its newly designed interface offers a diverse range of changeable themes on your A5. Plus, new ringtones, startup, touch, and notification sounds specifically made for the Galaxy A5 (2015) will perfectly match your mood and style. Show off your own style with Samsung Galaxy A5 (2015)'s new interface and sound.
Powerful performance
Equipped with a 1.2 GHz Quad core processor, the Galaxy A5 (2015) runs at geek speeds. You'll be seamlessly watching movies, listening to music, and running multiple apps at blazing speeds. With support for the LTE Cat 4, you'll be downloading a lot faster than the guy next to you.
Efficient power use
Never miss important calls because of a dead battery. Ultra Power Saving mode dramatically reduces battery consumption by shutting down unnecessary functions, ensuring your phone is available when you really need it. A smarter battery for a smarter phone.
UPC : 8806086627139