Apple iPhone 7 128GB 4G LTE Unlocked Smart Phone Gold
( Code: P65760 )
Tell your friends about this sale at:

---

Twitter

Don't Pay: $1,229.00

Was: $1,029.95

Deal: $990.95

Save: $238.05(19%)

Estimated Handling Time: 3 - 5 Working Days

Express Post Available*

(Choose express post option in the checkout, extra charge may apply)

* Buy now to earn 9909 points

---

Promotional Offer

Offer Ends in

Brand New

Apple iPhone 7 128GB 4G LTE Unlocked Smart Phone Gold

Splash and Water Resistant
New Home Button
New Colours
12MP Main Camera, 7MP FaceTime HD Camera
Retina HD Display
3D Touch
New Stereo Speaker System
A10 Fusion Chip with 64-bit Architecture. Embedded M10 motion coprocessor
iOS 10

---

This is 7.
iPhone 7 dramatically improves the most important aspects of the iPhone experience. It introduces advanced new camera systems. The best performance and battery life ever in an iPhone. Immersive stereo speakers. The brightest, most colorful iPhone display. Splash and water resistance. And it looks every bit as powerful as it is. This is iPhone 7.
Design
Makes a splash. Takes a splash.
iPhone 7 reaches a new level of innovation and precision. The jet black finish is like nothing we've ever made. The enclosure is splash and water resistant. The Home button is completely re-engineered. And with a new uni-body design that's seamless to the touch, iPhone 7 feels as amazing as it looks.
Two sizes. Five finishes.
With iPhone 7 and iPhone 7 Plus, we're introducing a beautiful black with a matte finish and a deep, high-gloss jet black. Both the 4.7-inch and 5.5-inch models — constructed with incredibly strong 7000 Series aluminum — are also available in our signature silver, gold, and rose gold finishes.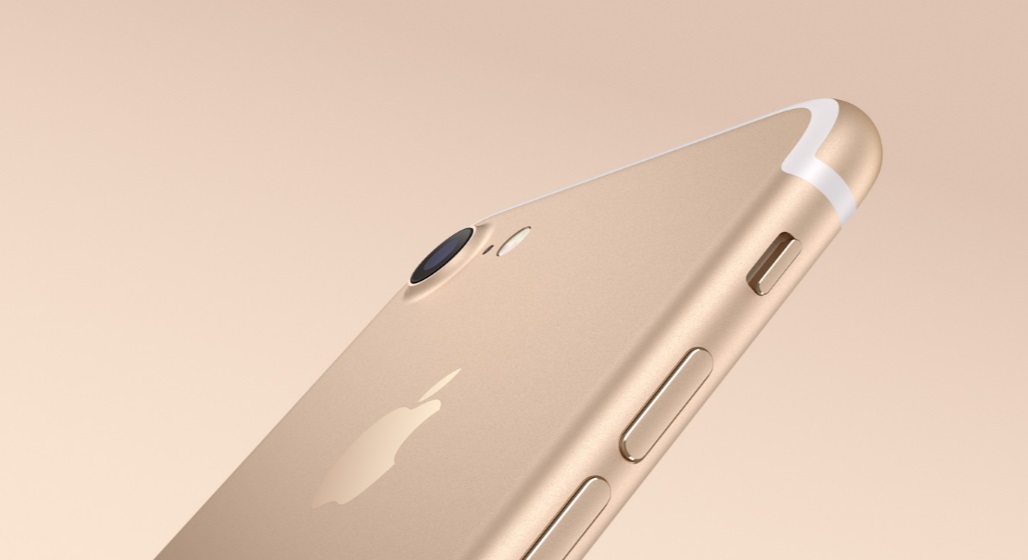 The gold standard of black.
Crafted from bead-blasted aluminum, our new black model has a rich, deep matte finish. The high-gloss jet black finish was achieved through a new feat of design engineering — a remarkably precise, nine-step process of anodization and polishing. The end result is so purely and continuously black, you can't tell where the aluminum ends and the glass begins. The dark side, indeed.

Built to be water resistant.
With its entire enclosure re-engineered, iPhone 7 is the very first water‑resistant iPhone. So now you're protected like never before against spills, splashes, and even dust.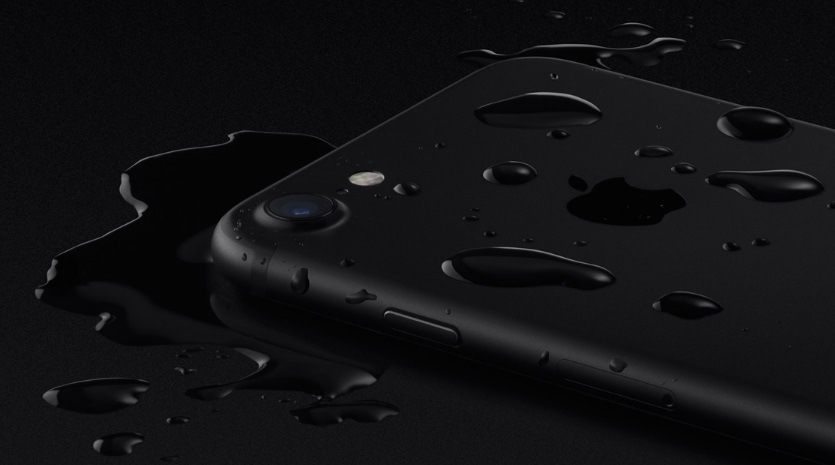 An all-new Home button.
The Home button on iPhone 7 is an advanced solid-state button designed to be durable, responsive, and pressure sensitive. Working in tandem with the new Taptic Engine, it gives you precise tactile feedback as you press. And it's even customizable. Welcome home.
Touch ID
Using a highly advanced fingerprint sensor that's as fast as ever, Touch ID makes unlocking your iPhone easy and secure.
Apple Pay
With iPhone, you can pay instantly and securely in stores, in apps, and on the web. And because your card details are never shared by Apple with merchants or stored on your device, using Apple Pay is the safer way to pay.
iPhone 7 Camera
An entirely new camera enters the picture.
iPhone is the most popular camera in the world. Now we've reengineered that beloved camera, adding optical image stabilization, an ƒ/1.8 aperture, and a six-element lens to make it even better for shooting photos and videos in low light. And with advanced new features like wide color capture, your photos and Live Photos will look even more vibrant.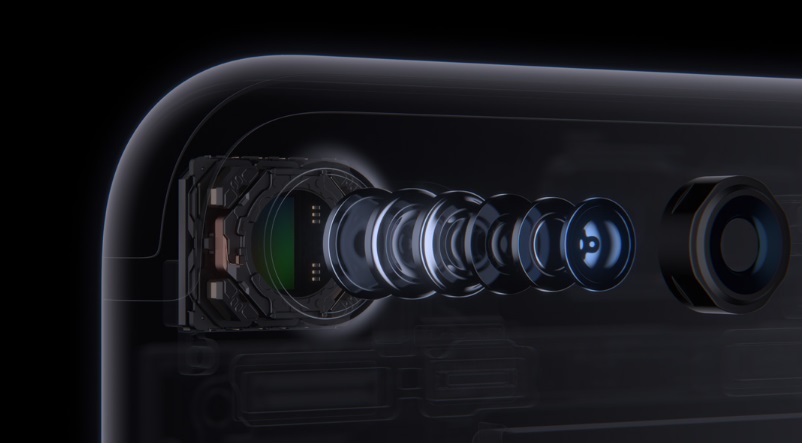 -Optical image stabilization
iPhone 7 comes with optical image stabilization to reduce blur associated with motion and handshake. A sensor helps the lens counteract even the tiniest movement, allowing for up to 3x longer exposure compared to iPhone 6s.
-ƒ/1.8 aperture
A larger aperture allows up to 50 percent more light onto the camera sensor than iPhone 6s, further enhancing the camera's ability to take superb low-light photos. Teamed with the new six-element lens, the camera will deliver brighter, more detailed shots.
-Quad-LED True Tone flash
Four smart LEDs flash 50 percent brighter than iPhone 6s. The flash adjusts according to the color temperature of the environment, resulting in sharper, more brightly lit photos.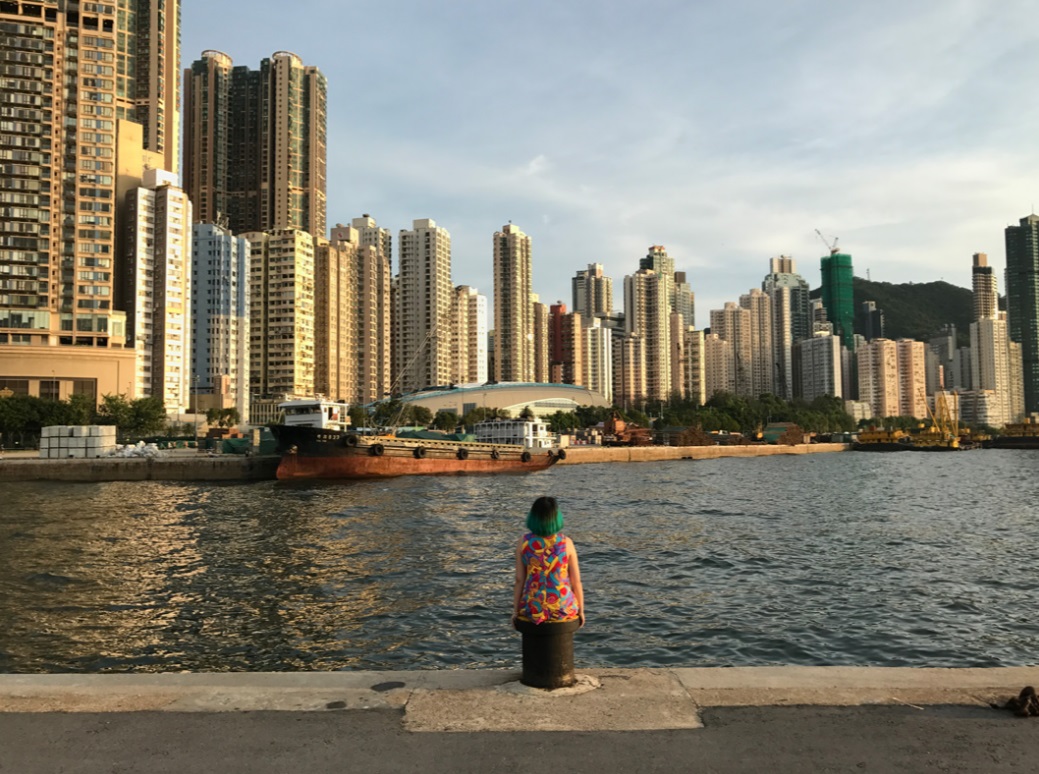 Now your movies are just like the movies.
Videos shot in darker settings with iPhone 7 will look remarkably better, enhanced by optical image stabilization and the all-new ƒ/1.8 aperture. And the 12MP camera captures high-resolution video up to 4K. So you can shoot epic movies of epic moments, even if they're happening in low light.
-Optical image stabilization
With a longer exposure, optical image stabilization reduces motion blur in your footage. An ƒ/1.8 aperture helps you film even better low-light videos, too.
-4K video
iPhone 7 lets you shoot in 4K resolution — with over 8 million pixels. And you can edit your video in iMovie, then share it instantly.
-Slo-mo video
Make your favorite moments last even longer. iPhone 7 offers slo-mo support in 1080p and 720p HD.
-Time-lapse video
Capture footage at dynamically selected intervals to create a time‑lapse video that's quick and easy to share.
New 7MP front-facing camera. Love your selfie.
The FaceTime HD camera is not only higher resolution, but it also uses wide color capture. So now you can take sharper and more vibrant selfies. Worried about lighting? The Retina Flash matches the ambient light for a shot with natural-looking skin tones. Hello, gorgeous.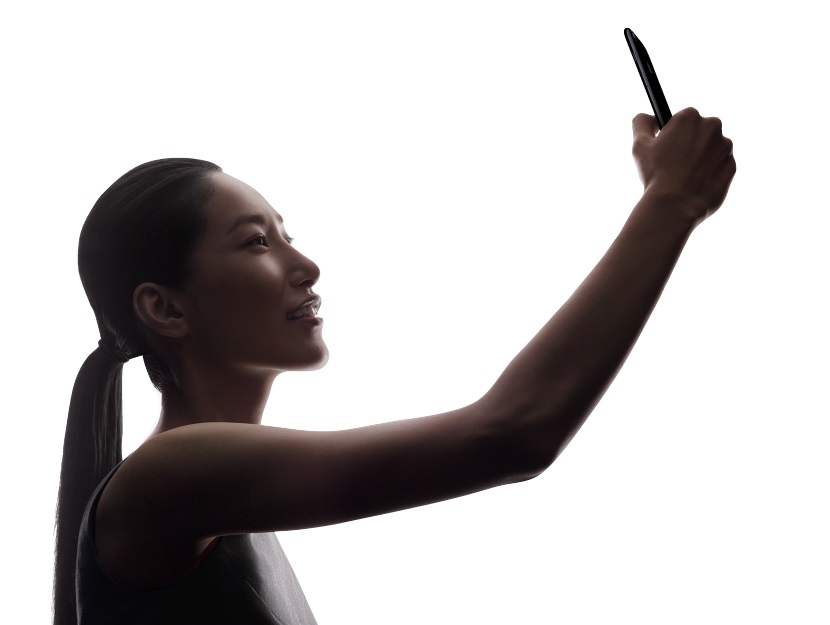 More brains behind the camera. Smarter ISP.
Why is the camera on iPhone 7 so advanced? It has an improved Apple‑designed image signal processor built into the A10 Fusion chip. When you take a photo or video, the ISP powers over 100 billion operations and even uses machine learning to make your images look amazing. Other improvements include faster focus and improved local tone mapping and white balance.
Photos for iOS. Bringing all your memories into focus.
You've never experienced your photos quite like this. The Photos app offers tools that let you find, share, and remaster your photos in entirely new ways. And the Memories feature uses advanced search technology to sort your photos into albums and movies for you to enjoy — without putting in any work.
Finding and reliving all your favorite moments has never been easier.
Introducing Memories — a powerful new feature that searches your photos and videos to find events, trips, people, and more, then presents them in beautiful collections. Rediscover a weekend hike or big events like a first birthday or family vacation. And see related photos by swiping up on any image in the Photos app. The Memories tab shows up to three new Memories every day, so you can relive all of your special moments.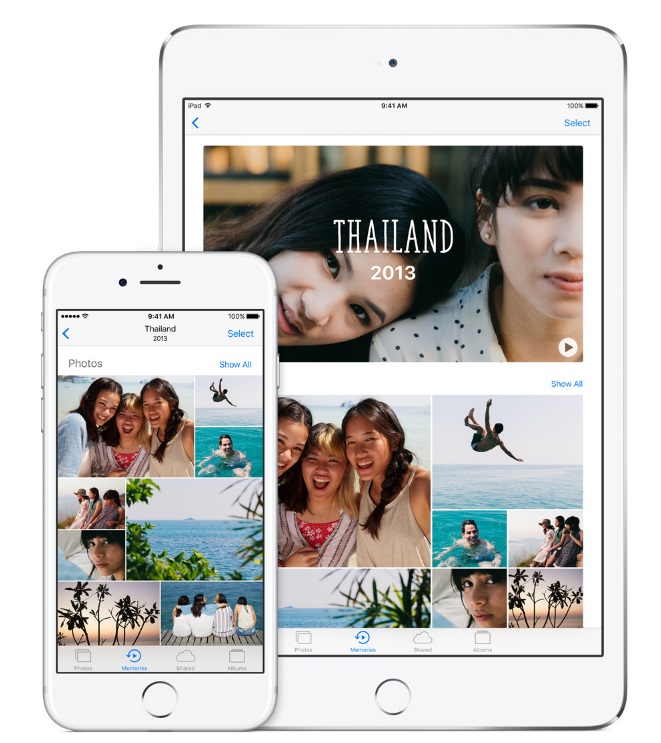 Your most-loved memories. Now playing.
Memories analyzes your best photos and videos and stitches them together into an amazing Memory Movie — complete with theme music, titles, and cinematic transitions. And you can edit every detail of your Memory Movie to make sure it's exactly how you want to remember it.
Search photos by people, places, and even things.
Photos makes it easier than ever to find a specific shot. It uses advanced face recognition technology to group photos by person, and lets you pinpoint a photo based on where you took it, thanks to a new Places album. Photos also recognizes scenes or objects in your photos, so you can search for things like dogs, beaches, mountains, or flowers
-People
Organize your photos by who's in them. Simply tap a group of photos of someone and add the person's name. You can also mark people as favorites so they're easier to find.
-Places
The Places album lets you view all your photos, videos, and Live Photos on a beautiful new map layout. Zoom in to reveal more photos at the specific location you took them.
-Things
Easily search your images for things like cars or trees or snow. You can even ask Siri to help look for photos, with commands like "Find my pictures with dogs in them."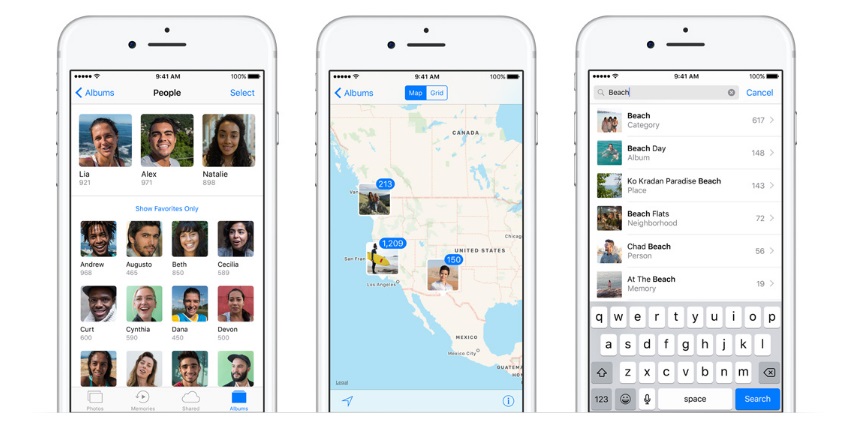 Designed to keep your photos private.
One of the best things about Photos is how it protects your privacy. iOS is designed to take advantage of the powerful processor built into every iPhone and iPad. So when you search your photos, for instance, all the face recognition and scene and object detection are done completely on your device. Which means your photos are yours and yours alone.
Share your photos and videos in more ways than ever.
Add personality to your photos with stickers and Markup. Use the share sheet to share photos via iCloud Photo Sharing or AirDrop. Or post photos with a tap to your favorite photo sharing sites, like Facebook and Twitter.
Picture all the new possibilities in Messages.
Quickly share a selfie in Messages using the built-in live camera. Or send a photo in invisible ink so its contents are kept secret until the recipient swipes to reveal it. You can even draw on your photos and add stickers.
iCloud Photo Sharing. Your favorite photos, shared only with your favorite people.
Sometimes you only want to share your photos with the people who will truly appreciate them. iCloud Photo Sharing lets you do just that. Create a shared album and you control who sees what. Posting photos and videos is as simple as tapping iCloud Photo Sharing on your share sheet. Just choose the photos you want to share and invite up to 100 of your friends and family to see them. They can comment and even add their own shots.
Share here, there, and everywhere.
Post your photos and videos with a tap to sites like Facebook, Twitter, and Flickr. You can also customize the share sheet and post photos directly to other sites that offer sharing extensions.
Give your photos some airtime.
Want to show off your vacation photos and videos? Gather your friends and family around your HDTV, and with AirPlay, you can wirelessly stream whatever's on your iOS device to the big screen via Apple TV. Just like that, you have an audience.
Editing your pics is a snap.
Whatever your skill level, you'll be able to create photo masterpieces right in the Photos app. You don't have to wait to get back to your Mac to do it. Photos can make beautiful edits for you. Or you can take control and fine-tune every aspect of a photo yourself.
-Edit Live Photos.
Now you can edit Live Photos just like any other photo, using the built-in editing tools. Crop, add filters, adjust light and color, and more. It's all up to you.
-Apply built-in filters.
Beautiful, moody, or fun. Tap to experiment with enhanced photo filters. If you don't like how it looks, you can always revert to the original.
-Use smart adjustments.
Modify the overall light in a photo with a single control. Behind the scenes, Photos intelligently adjusts exposure, brightness, contrast, brilliance, and more — giving everyone, even the complete novice, great results.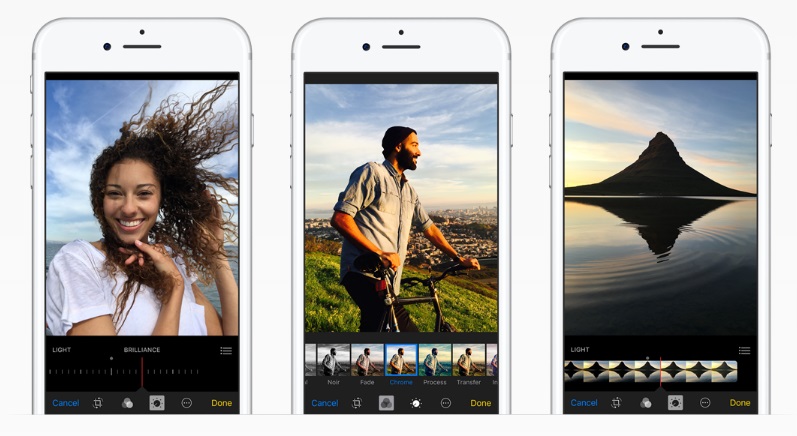 Use powerful outside editing tools, right inside Photos.
If you want to take your photo editing further, Photos lets you do that, too. You can use third-party photo editing tools to make sure everything's picture perfect. And you can do it all without leaving the Photos app.
iCloud Photo Library. All your photos, on all your devices.
Every photo and video you take now lives in iCloud — giving you the freedom to access your library from any device, anytime you want. So you can view a photo from last week or last year no matter where you are. And iCloud Photo Library keeps every photo and video you take all in one place, and you can access them from your iPhone, iPad, iPod touch, and Mac, on iCloud.com, and even with your PC.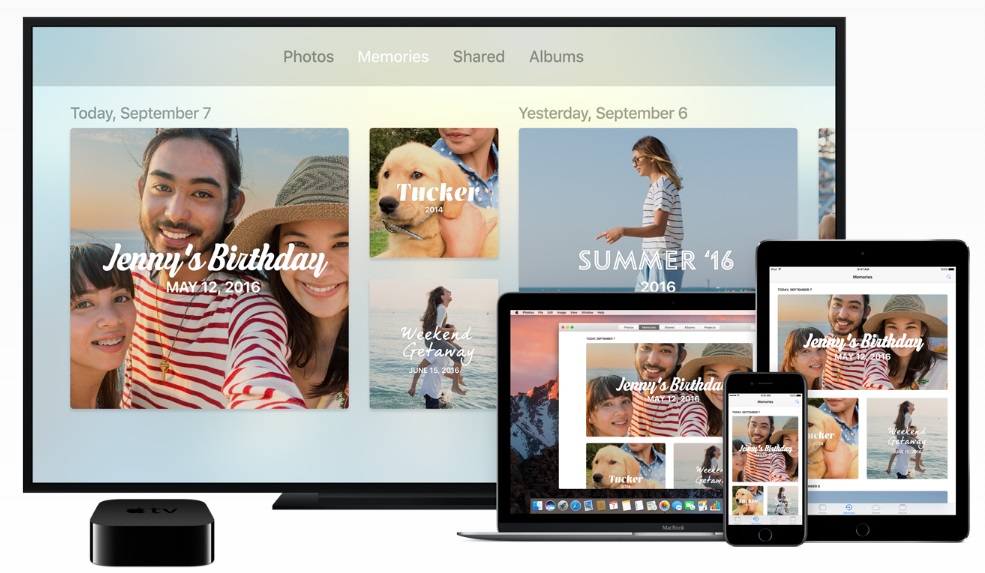 iPhone 7 Plus Camera
Two cameras that shoot as one.
iPhone 7 Plus doesn't have just one entirely new camera system — it has two. The same 12MP wide-angle camera that's on iPhone 7 works with a 12MP telephoto camera that can get even closer. That means you can get higher-quality zoom from farther away. And with an all-new depth-of-field effect (coming soon), portrait shots will look better than ever. Say hello to the world's best photo op.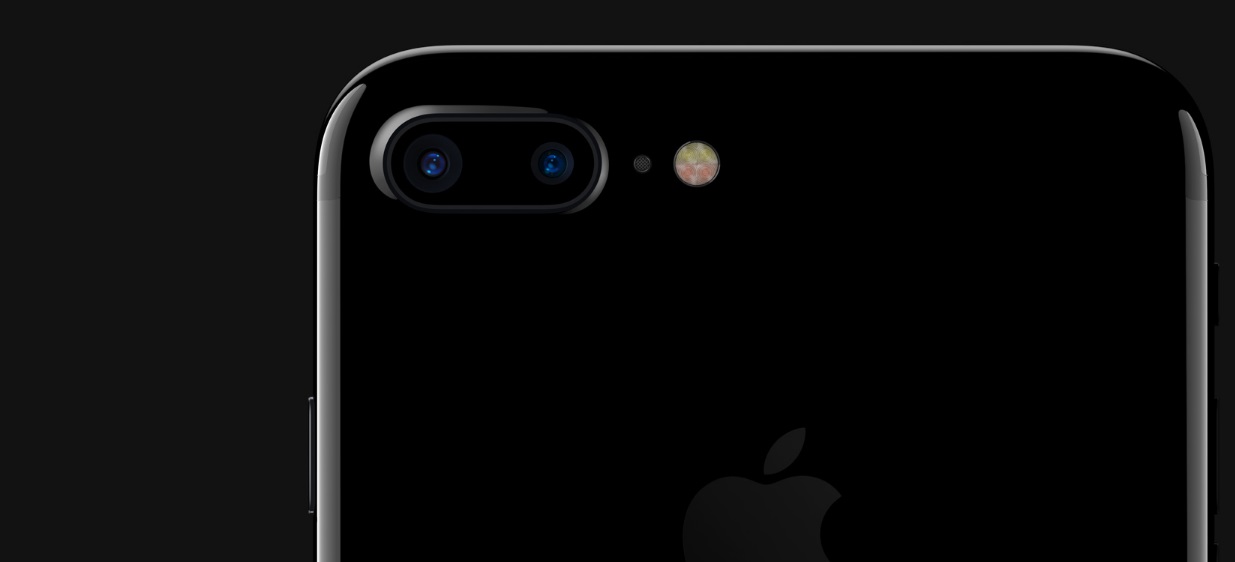 Zoom into the future.
Thanks to the dual-camera system and breakthrough ISP technology on iPhone 7 Plus, you can now get supersharp close-up photos and videos with optical zoom at 2x. And you can get even closer with improved digital zoom that lets you shoot at up to 10x for photos and 6x for video.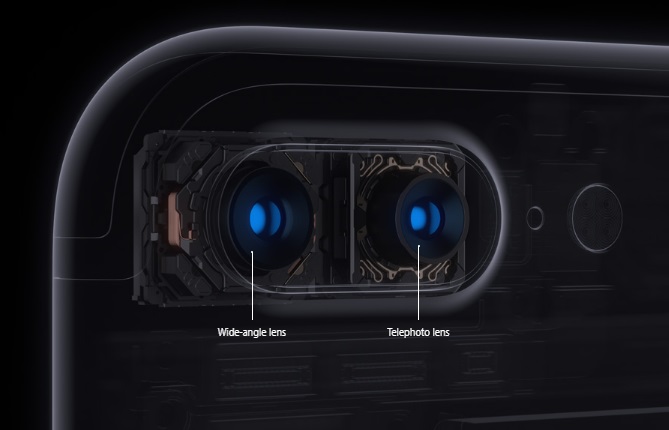 Depth-of-field effect.
Depth of field allows you to keep faces sharp while creating a blurred effect in the background. When you take a shot with iPhone 7 Plus, the dual-camera system uses both cameras and advanced machine learning to make your subject sharp while creating the same out-of-focus blur in the background — known as the bokeh effect — previously reserved for DSLR cameras. So no matter what's behind your subject, it's easy to create a great portrait.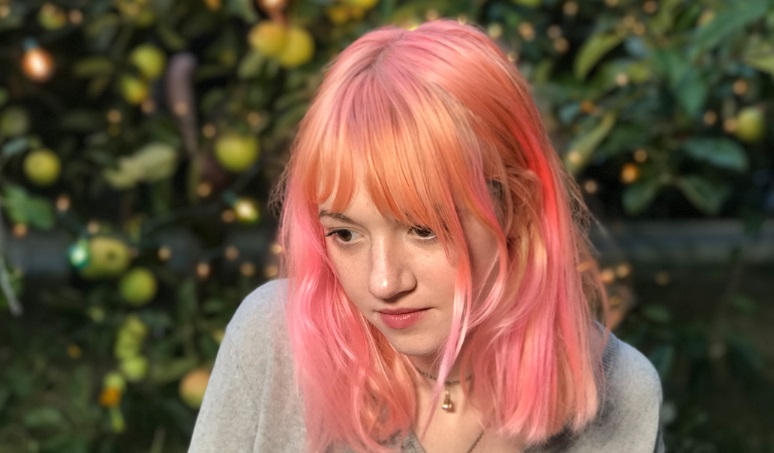 Retina HD Display
The brightest, most colorful iPhone display yet.
Almost everything you experience with your iPhone comes to life on its display. It's where you look at the photos, messages, news, and countless other things that make up your day. The iPhone 7 display uses the same color space as the digital cinema industry, so what you see will be noticeably more brilliant and vibrant. Because we all deserve a bit more brightness in our day.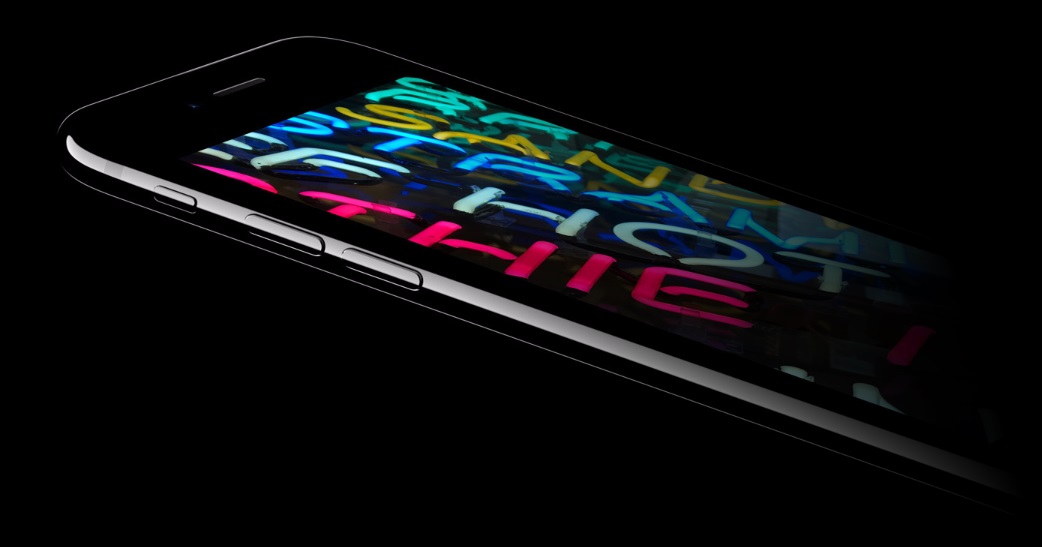 More colors. More true to life.
With a new wide color gamut, the Retina HD display is able to deliver cinema‑standard colors — and the best color management in the smartphone industry. More shades of the color spectrum can be used to create an image, meaning that what you see on the screen is a truer representation of the world. So whether you're checking out photos of that perfect dress or Live Photos you took in the tropics, the colors will be so accurate, it will look like you're there.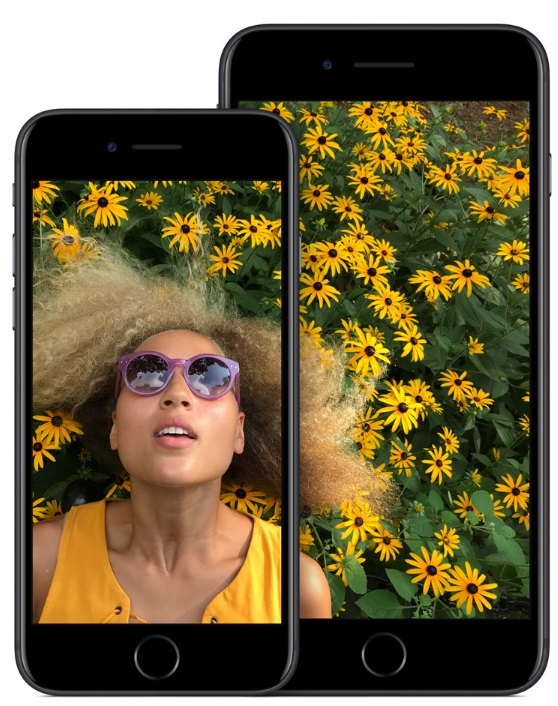 3D Touch. Now even handier.
When you use 3D Touch, your iPhone responds with subtle taps. So not only will you see what a press can do — you'll feel it. The new Retina HD display on iPhone 7 deeply integrates 3D Touch throughout iOS. Now you can interact with Messages, Calendar, Mail, and other apps in a more powerful, more responsive way.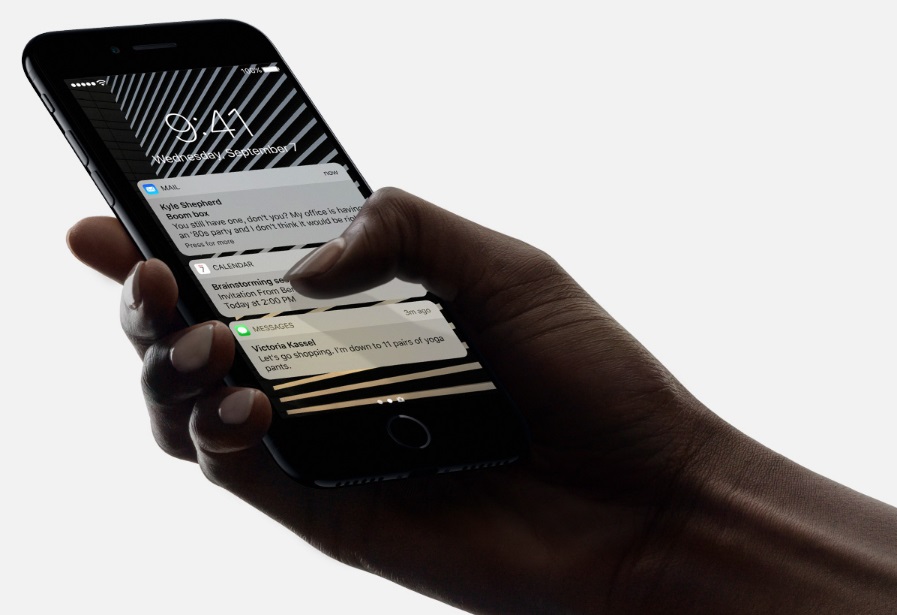 A10 Fusion Chip
The most powerful chip ever in a smartphone.
iPhone 7 is supercharged by the most powerful chip ever in a smartphone. It's not just faster than any previous iPhone — it's also more efficient. That's because the A10 Fusion chip uses an all-new architecture that enables faster processing when you need it, and the ability to use even less power when you don't. And with the longest battery life ever in an iPhone, you can work at twice the speed of iPhone 6 and still enjoy more time between charges.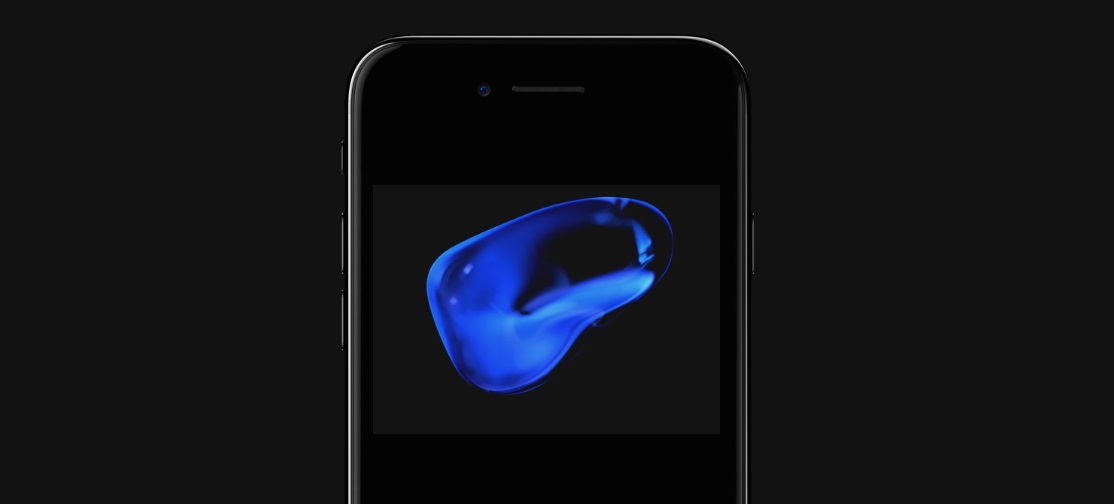 Faster and more efficient.
With an all-new four-core design, the A10 Fusion chip's CPU has two high‑performance cores and two high‑efficiency cores. The high‑performance cores can run at up to 2x the speed of iPhone 6, while the high‑efficiency cores are capable of running at just one-fifth the power of the high‑performance cores. That means you get the best performance and efficiency when you need it.
Longest battery life ever in an iPhone.
With the A10 Fusion chip, this year you'll get more time between charges than ever before. Take advantage of up to two more hours on iPhone 7 and up to one more hour on iPhone 7 Plus than the previous generation.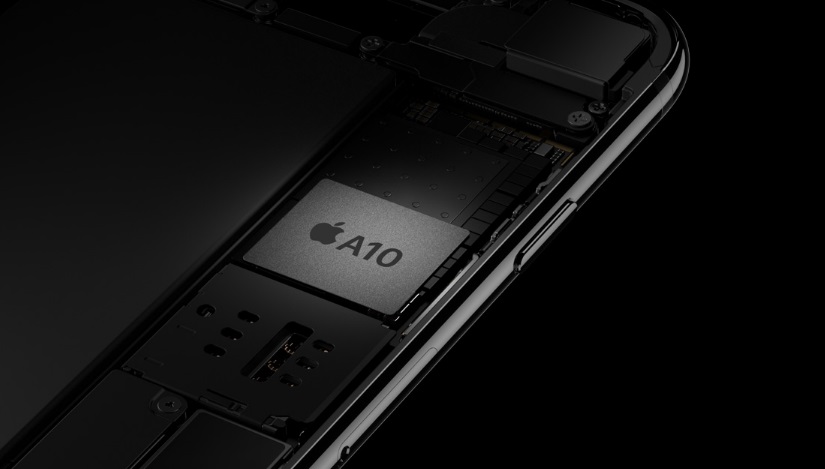 Double the capacity up to 256GB.
iPhone 7 doubles the capacity of iPhone 6s across the line to 32GB, 128GB, and 256GB. So bring on the apps. Bring on the videos. iPhone 7 can take it. Literally.
Audio
iPhone. Now in stereo.
For the first time, iPhone comes with stereo speakers, delivering two times the audio output of iPhone 6s and increased dynamic range. So whether you're listening to music, watching videos, or making speakerphone calls, iPhone 7 lets you crank it up. Way, way up.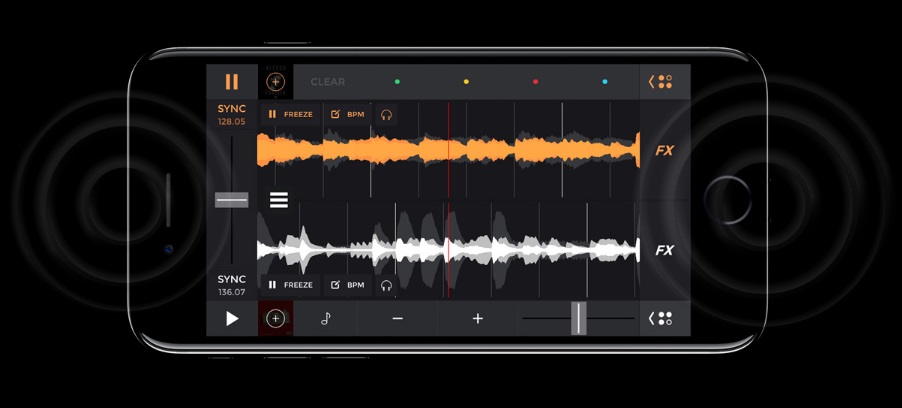 EarPods. With a Lightning connector.
iPhone 7 comes with EarPods that have a Lightning connector. But if you still want to listen through your old headphones, you can plug them in using a 3.5 mm headphone jack adapter, also included.

Introducing AirPods.
AirPods
The new AirPods offer a game-changing listening experience. Designed with a huge amount of forward-thinking technology inside a tiny device, these wireless headphones combine crystal clear sound with a new sense of freedom.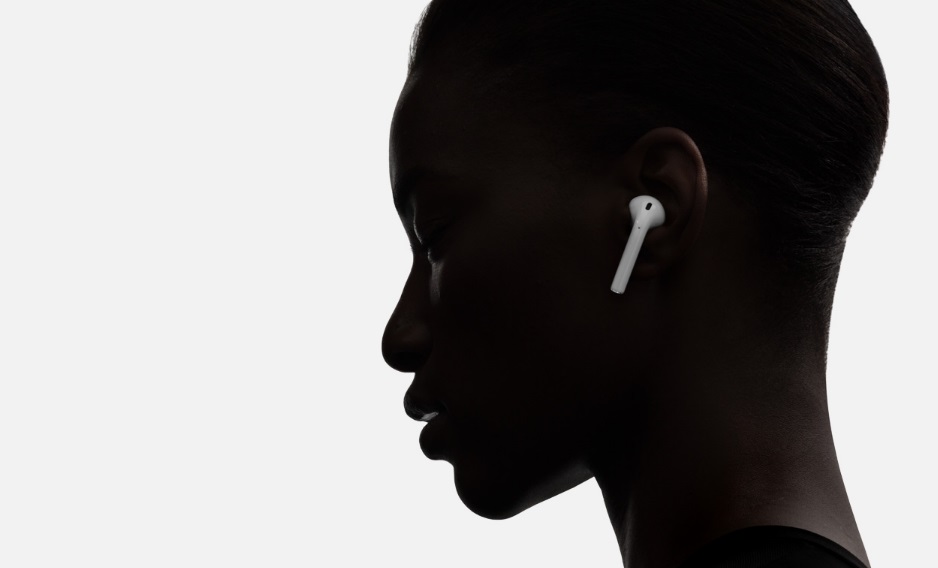 Wireless. Effortless. Magical.
Just take them out and they're ready to use with all your devices. Put them in your ears and they connect instantly. Speak into them and your voice sounds clear. Introducing AirPods. Simplicity and technology, together like never before. The result is completely magical.
Wireless headphones. Finally untangled.
After a simple one-tap setup, AirPods are automatically on and always connected.1 Using them is just as easy. They can sense when they're in your ears and pause when you take them out. And the AirPods experience is just as amazing whether you're listening to your iPhone, Apple Watch, iPad, or Mac.
What's a chip doing in there? A whole lot.
All the groundbreaking things AirPods can do are driven by the custom-designed Apple W1 chip. It produces extremely efficient wireless for a better connection and improved sound. And the W1 chip manages battery life so well, you can listen for 5 hours on a single charge. It's performance that's unheard of in a device this small.
-Knows when you're talking.
A voice accelerometer recognizes when you're speaking and works with a pair of beamforming microphones to filter out external noise and focus on the sound of your voice.
-Knows when you're listening.
Optical sensors and motion accelerometers work with the W1 chip to automatically control the audio and engage the microphone, giving you the ability to use one or both AirPods. They also enable AirPods to play sound as soon as they're in your ears.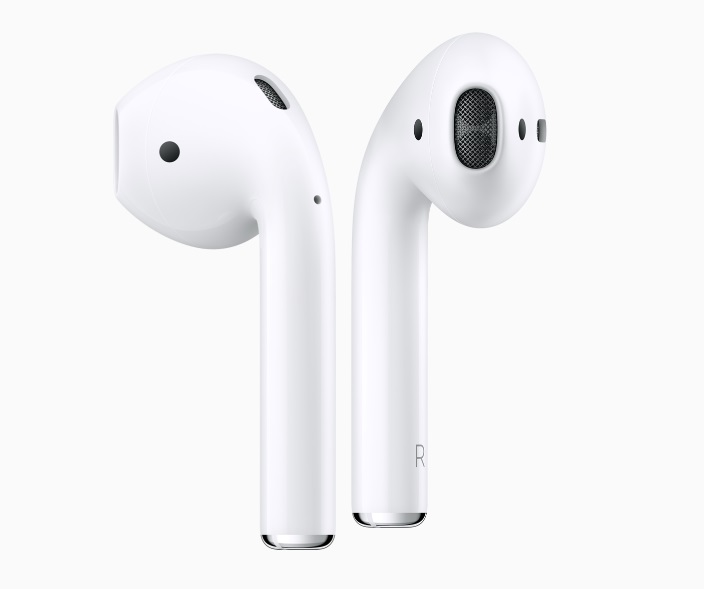 The power of 24‑hour battery life.
AirPods deliver an industry-leading 5 hours of listening time on one charge.3 And they're made to keep up with you, thanks to a charging case that holds multiple additional charges for more than 24 hours of listening time.5 Need a quick charge? Just 15 minutes in the case gives you 3 hours of listening time.6 To check the battery, hold the AirPods next to your iPhone or ask Siri "How's the battery on my AirPods?"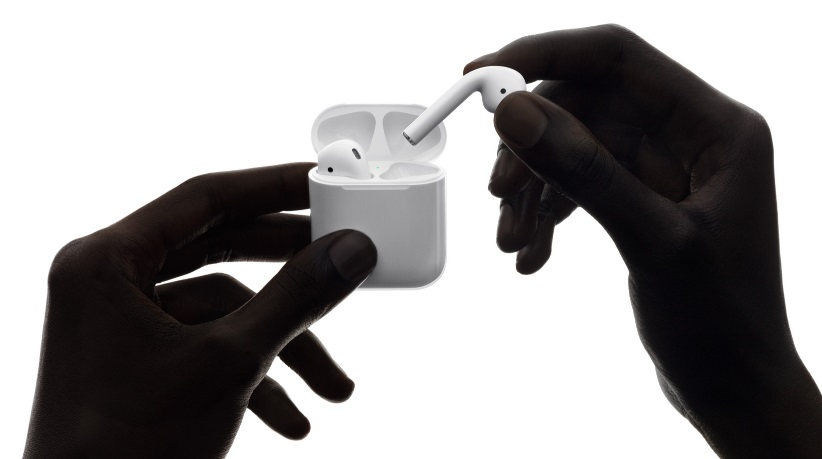 Clearly superior sound.
It's great-sounding music, movies, and more to your ears. AirPods provide rich, high-quality AAC audio. And when you want to be heard, dual beamforming microphones filter out background noise when you make calls or talk to Siri.
Automatic setup. Seamless switching.
AirPods connect automatically with all your Apple devices. They're simultaneously connected to your iPhone and Apple Watch, and sound switches instantly between the devices. Want to listen to your Mac or iPad? Just choose AirPods on those devices.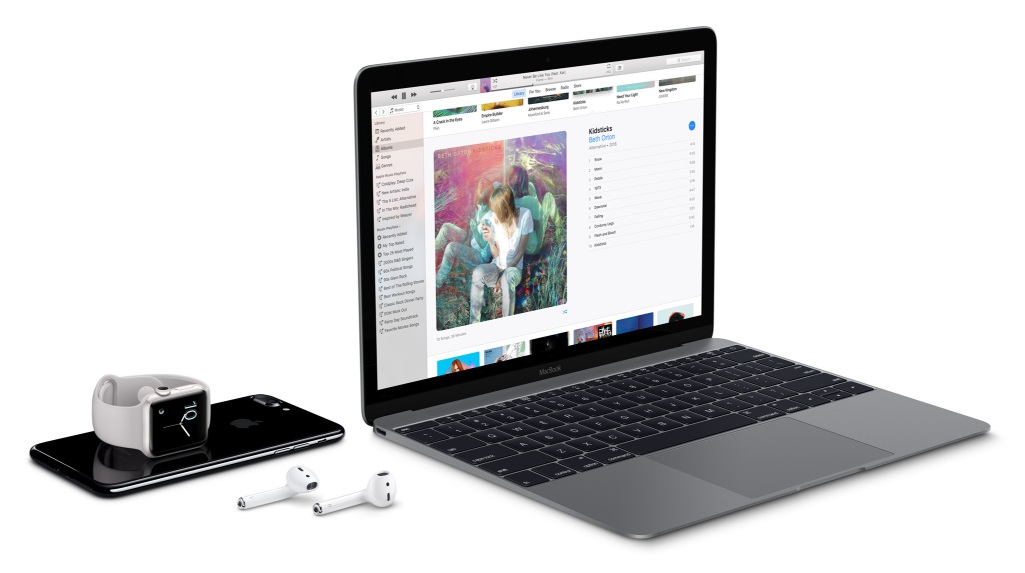 Wi-Fi and Cellular
Faster LTE with the best worldwide roaming.
iPhone 7 features LTE Advanced, with speeds up to 450 Mbps for data downloads — over 50 percent faster than iPhone 6s and three times faster than iPhone 6.6 And thanks to even more LTE bands, you'll have the best worldwide roaming available in a smartphone. Happy travels.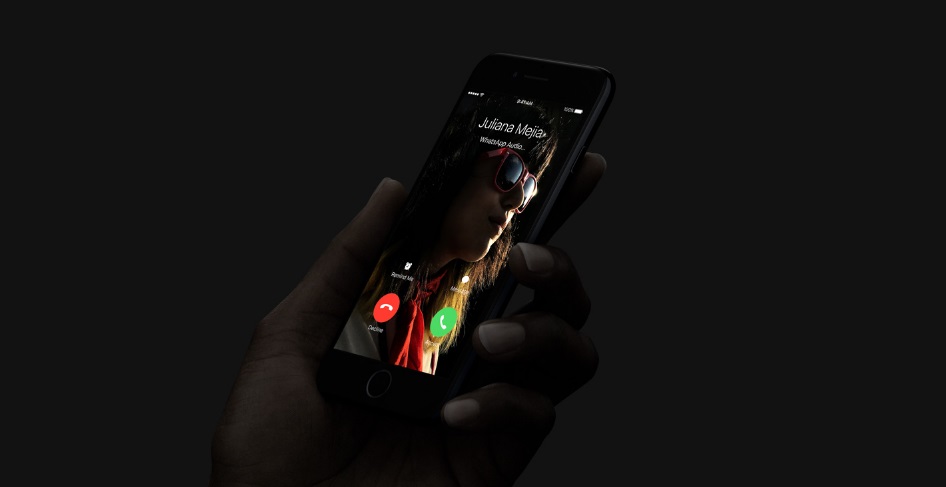 Crystal clear VoLTE and Wi-Fi calls.
iPhone 7 supports Voice over LTE — high‑quality wideband calls that make your conversations sound as crisp and clear as if you were face to face. When you're unable to get cellular service, Wi-Fi calling provides an easy way to make and receive calls over a Wi-Fi connection. And now both are supported on even more carriers around the world.
Answer calls on apps like Facebook Messenger and more.
No matter where your call comes from, iPhone 7 can answer it just like a regular call. You can even access your contacts and use call waiting.
Software
iOS 10. It's why there's nothing else like an iPhone. The world's most advanced mobile operating system.
iOS brings iPhone and iPad to life in incredibly personal and powerful ways. The interface is beautiful and easy to use. Intelligent suggestions appear right when you need them. And advanced technologies protect your privacy and security. Once you've experienced iOS, you'll understand why so many people love using iPhone and iPad.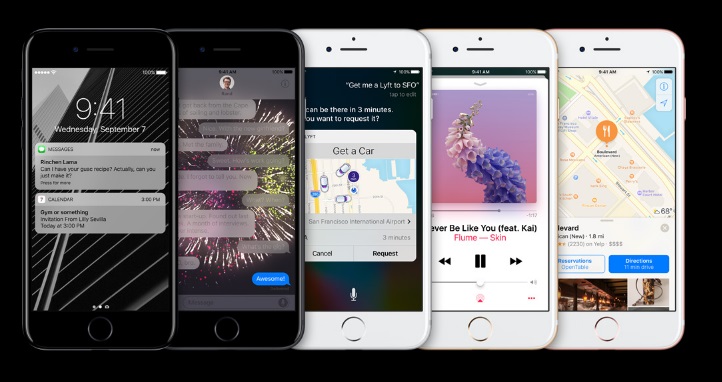 Easy to Use - Tap. Swipe. Scroll.
See, you already know how to use it.
From the moment you pick up your iOS device, you're up and running. Tap your favorite app and get right to work — or play. Swipe from the right side of the Lock screen to quickly pull up your camera. Scroll through thousands of photos in seconds. Everything about iOS is designed to look beautiful and work beautifully.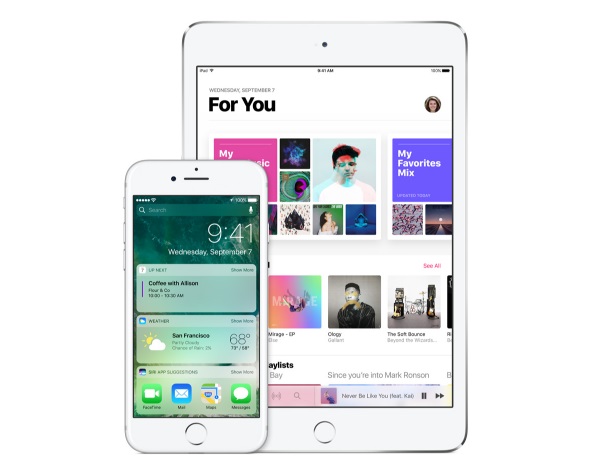 Performance - So smooth and responsive you won't even notice it. And that's the point.
Because iOS is engineered specifically for iPhone and iPad, everything looks and feels incredibly fluid. iOS uses a framework called Metal to maximize graphics performance. Whether you're surfing the web, moving from app to app, or playing the most complex 3D video game, the graphics and responsiveness are amazingly smooth. No other mobile operating system is so effortless and natural.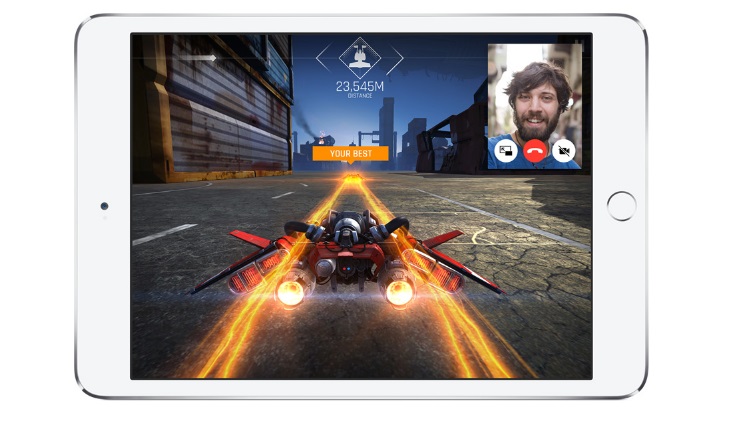 Experience - Hardware and software designed together. For an experience that stands apart.
Something really special happens when hardware and software are made for each other. Everything just works. Incredibly well. Apps can take full advantage of hardware features such as the powerful A10 chip, advanced camera system, Touch ID sensor, and 3D Touch. Your iPad lets you work with two apps at once. iOS even helps your battery last longer by updating apps only when your device is plugged in.
-Camera
When you tap the shutter button, the iPhone camera's image signal processor performs billions of operations — including things like face detection, autofocus, and exposure control. All so you can capture unbelievably sharp pictures in a flash.
-Apple Pay
With an advanced fingerprint sensor that instantly recognizes you, and software designed to keep your payment information private, shopping has never been easier. Or safer.
-3D Touch
The latest iPhone Retina displays can distinguish between different levels of pressure, revealing more options depending on how deeply you press. So you can do more with just a touch.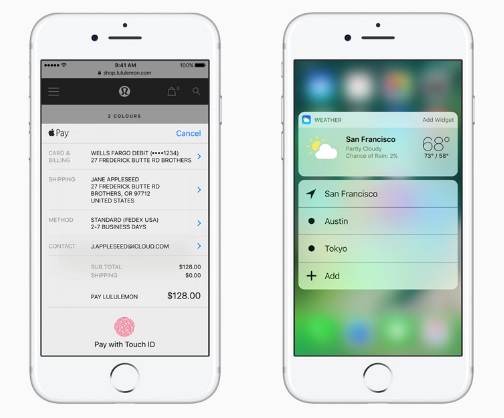 Built-in Apps - Apps as elegant as they are essential.
iOS comes with a core collection of Apple-designed apps you'll use every day, like Photos, Maps, Messages, News, Health, and more. Each of these apps is engineered with incredible attention to detail. So, for example, when you send a message, you can express yourself in more ways than ever. Our apps also work with other apps, so you can book a table at a restaurant and a ride to get you there — without ever leaving Maps.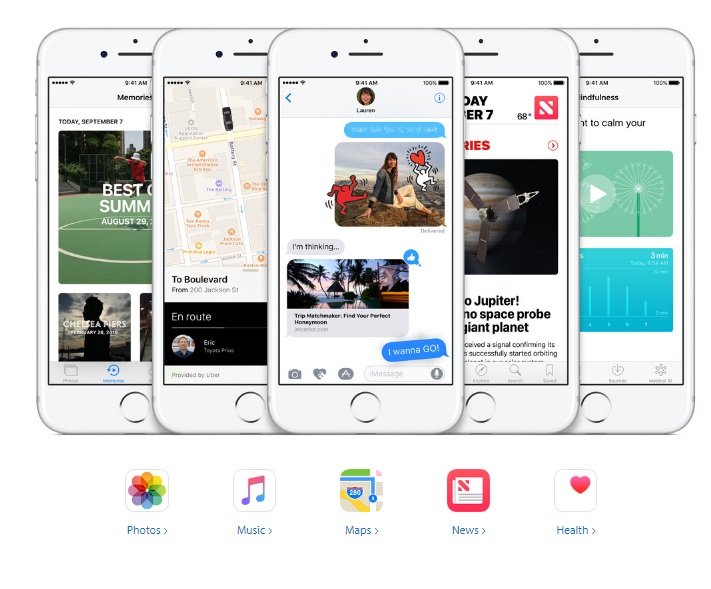 Intelligence - An OS with a remarkably high IQ.
With sophisticated features like proactive suggestions, predictive typing, and everybody's favorite personal assistant, Siri, iOS 10 makes everything you do easier, quicker, and more fun.
Nobody understands you quite like Siri.
Siri learns how you talk, not the other way around. Thanks to Apple-developed machine-learning technology, you can simply speak naturally. So whether you say "Get a Lyft to SFO" or "I'd like a ride to SFO using Lyft," Siri will read you loud and clear.
Siri even works with your favorite apps.
You can ask Siri to send someone a payment using Square Cash, book a reservation through OpenTable, and much more. And the number of apps incorporating Siri is growing every day.
iOS knows what you want before you do.
iOS is so smart it can provide helpful suggestions to make writing a message easier, get you to your destination faster, and even recommend apps you're likely to love. All while keeping your information private.
-QuickType
Have your current location, recent addresses, contact information, and more brought up automatically. So when a friend asks "Where are you?" you can share your location with just a tap.
-Maps
Maps can learn your daily routine, providing helpful suggestions for places you might like to visit and the fastest way to get there. For example, upcoming meetings on your calendar are automatically presented with suggested routes.
-Photos
When you search your photo collection, Photos performs billions of calculations to identify images with the specific people, places, and things you're looking for. Making it faster than ever to find your favorite memories.
-Calendar
iOS intelligently picks up on scheduling details in your conversations. So if you type something like "I'm free today at," you're presented with available times on your calendar.
-Suggested apps
iOS 10 can suggest apps you might like to use based on your location and the time of day. When you arrive at the gym, for example, iOS may suggest your favorite personal-training app to help you get the most out of your workout.
-Multilingual typing
Type in two languages at the same time without having to switch keyboards. iOS recognizes any pair of the following languages: English, French, German, Italian, Portuguese, and Spanish. It also supports using English and Chinese together.
Protecting Your Data - Privacy and security are at the core of everything we believe. And everything we make.
At Apple, protecting your information is something we build into our processes from the beginning. When we have an idea for a product, we find a way to make it that ensures your security and privacy. It's a value we're deeply committed to because your trust means everything to us.
-Comprehensive privacy.
iOS is designed to put your privacy first. If an app wants your location information or personal data — like in Calendar, Contacts, Reminders, or Photos — it needs your permission first. And you have complete control over how apps access your HealthKit and HomeKit data. Conversations over iMessage and FaceTime are encrypted so no one but you and the person you're talking to can see or read what's being said while you're communicating. And features built into Safari give you the ability to browse privately, block cookies, and prevent websites from tracking you.
-Advanced security.
iOS offers the most advanced security of any mobile operating system. For starters, hardware and firmware features are designed to protect against malware and viruses, while iOS features help to secure your personal information. Touch ID lets you use your fingerprint as an easy alternative to entering your passcode each time, preventing unauthorized access to your device. And we give developers tools to make the safest apps possible, including top-notch encryption, app transport security, and more. The point is, security runs throughout the entire system — everything from the hardware to iOS to the App Store.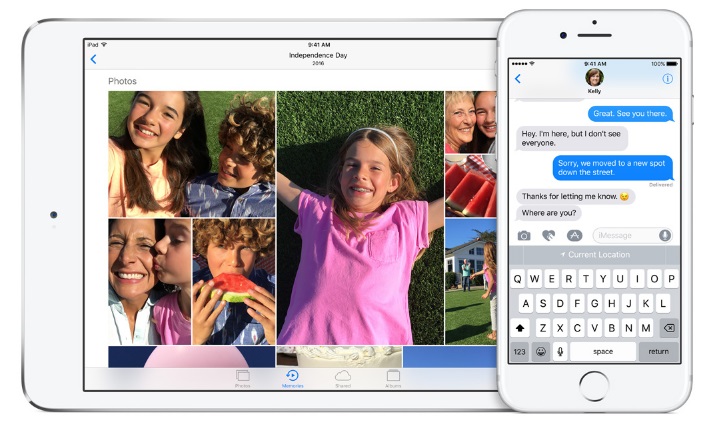 Continuity - All your devices. One seamless experience.
With iCloud, iOS can automatically connect many of your Apple products, making things you do every day easier. Like sharing large files instantly between devices without having to email them. Or starting a task on your iPad and finishing it on your Mac. You can even stream video from your iPhone or iPad to your TV through Apple TV. And everything's synced — so when you update a document or photo on your iPhone, the latest version appears on all your devices.
iCloud - Safely store all your stuff. Automatically.
iCloud can automatically back up your photos, videos, documents, apps, contacts, calendar events, and more — keeping your most important content safe, while freeing up space on your iPhone or iPad.5 Find My iPhone helps you find your device if you lose it.6 And everything stored in iCloud is easily accessible from any iOS device or Mac.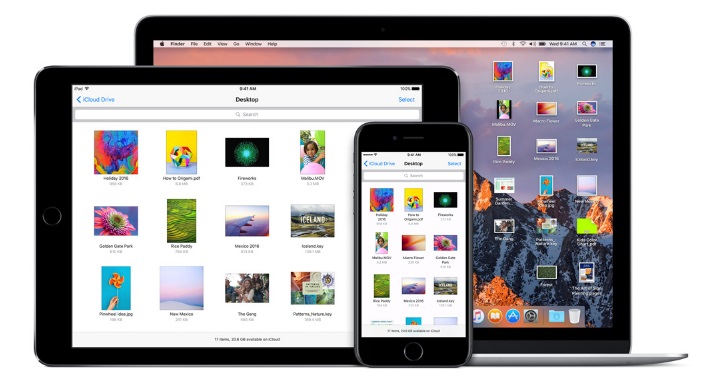 Accessibility - We want everyone to experience the power of iOS.
iOS includes a variety of assistive features that allow people with disabilities to enjoy more of what iPhone and iPad have to offer. Because as technology moves forward, we want to make sure no one is left behind.
You'll always get the latest updates. Free.
iOS updates are free. And they're available to download wirelessly on your iPhone and iPad the moment they're released. Your device even alerts you when it's time to get the latest version. So you won't miss out on the amazing features in new updates.
Switching to iOS from Android is easy.
The Move to iOS app makes it surprisingly simple to move all your important stuff, such as contacts, calendars, and photos, to your new iPhone or iPad. Do it yourself or come in to an Apple Store and let a Specialist help you. Either way, Apple Support is always standing by if you have any questions.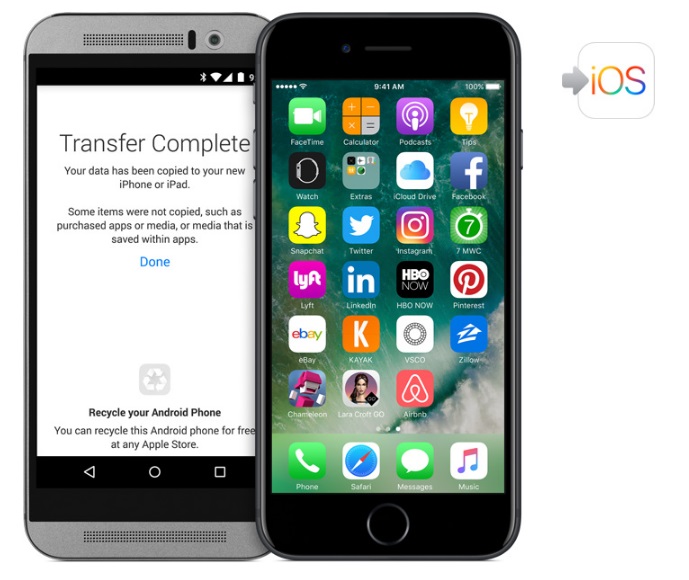 UPC : 190198071996

---
Display
Retina HD display
4.7-inch (diagonal) LED-backlit widescreen
Multi-Touch display with IPS technology
1334-by-750-pixel resolution at 326 ppi
1400:1 contrast ratio (typical)
Wide color display (P3)
625 cd/m2 max brightness (typical)
Dual-domain pixels for wide viewing angles
Fingerprint-resistant oleophobic coating
Support for display of multiple languages and characters simultaneously
Display Zoom
Reachability
Splash, Water, and Dust Resistant
Rated IP67 under IEC standard 60529
Chip
A10 Fusion chip with 64-bit architecture
Embedded M10 motion coprocessor
Camera
12MP camera
ƒ/1.8 aperture
Digital zoom up to 5x
Optical image stabilization
Six‑element lens
Quad-LED True Tone flash
Panorama (up to 63 megapixels)
Sapphire crystal lens cover
Backside illumination sensor
Hybrid IR filter
Autofocus with Focus Pixels
Tap to focus with Focus Pixels
Live Photos with stabilization
Wide color capture for photos and Live Photos
Improved local tone mapping
Body and face detection
Exposure control
Noise reduction
Auto HDR for photos
Auto image stabilization
Burst mode
Timer mode
Photo geotagging
Video Recording
4K video recording at 30 fps
1080p HD video recording at 30 fps or 60 fps
720p HD video recording at 30 fps
Optical image stabilization for video
Optical zoom at 2x; 6x digital zoom (iPhone 7 Plus only)
Quad-LED True Tone flash
Slo‑mo video support for 1080p at 120 fps and 720p at 240 fps
Time‑lapse video with stabilization
Cinematic video stabilization (1080p and 720p)
Continuous autofocus video
Body and face detection
Noise reduction
Take 8-megapixel still photos while recording 4K video
Playback zoom
Video geotagging
FaceTime HD Camera
7-megapixel photos
1080p HD video recording
Retina Flash
ƒ/2.2 aperture
Wide color capture for photos and Live Photos
Auto HDR
Backside illumination sensor
Body and face detection
Auto image stabilization
Burst mode
Exposure control
Timer mode
Touch ID
Fingerprint sensor built into the new Home button
Cellular and Wireless
Model A1660* & Model A1661*
FDD-LTE (Bands 1, 2, 3, 4, 5, 7, 8, 12, 13, 17, 18, 19, 20, 25, 26, 27, 28, 29, 30)
TD-LTE (Bands 38, 39, 40, 41)
TD-SCDMA 1900 (F), 2000 (A)
CDMA EV-DO Rev. A (800, 1900, 2100 MHz)
UMTS/HSPA+/DC-HSDPA (850, 900, 1700/2100, 1900, 2100 MHz)
GSM/EDGE (850, 900, 1800, 1900 MHz)

Model A1778* & Model A1784*
FDD-LTE (Bands 1, 2, 3, 4, 5, 7, 8, 12, 13, 17, 18, 19, 20, 25, 26, 27, 28, 29, 30)
TD-LTE (Bands 38, 39, 40, 41)
UMTS/HSPA+/DC-HSDPA (850, 900, 1700/2100, 1900, 2100 MHz)
GSM/EDGE (850, 900, 1800, 1900 MHz)
Models A1778 and A1784 do not support CDMA networks, such as those used by Verizon and Sprint.

All models 802.11a/b/g/n/ac Wi‑Fi with MIMO
Bluetooth 4.2 wireless technology
NFC
Location
Assisted GPS and GLONASS
Digital compass
Wi-Fi
Cellular
Power and Battery
Up to 2 hours longer battery life than iPhone 6s

Talk time (wireless):
Up to 14 hours on 3G

Standby:
Up to 10 days

Internet use:
Up to 12 hours on 3G
Up to 12 hours on LTE
Up to 14 hours on Wi-Fi
Wireless video playback:
Up to 13 hours

Wireless audio playback:
Up to 40 hours

Built-in rechargeable lithium-ion battery
Charging via USB to computer system or power adapter
Operating System
iOS 10
With an all-new design and all-new features, iOS 10 is the world's most advanced mobile OS. It brings your iPhone to life in more intelligent and expressive ways than ever.
Size and Weight
5.44 inches (138.3 mm) x 2.64 inches (67.1 mm) x 0.28 inch (7.1 mm)

4.87 ounces (138 grams)
UPC
190198071996

---
1 x iPhone 7 Unlocked Smart Phone
1 x EarPods with Lightning Connector
1 x Lightning to 3.5 mm Headphone Jack Adapter
1 x Lightning to USB Cable
1 x SAA Approval Charging Adapter
1 x Documentation
1 Year Warranty in Australia
LTE bands are not covered in all areas in Australia. Please contact your provider if you have any uncertainty
Accessories is NOT covered in Warranty
* Picture and specifications are for illustration purposes only. Actual product may differ from that pictured.
** While every attempt is made to ensure the information provided on this page is accurate, specifications change from time to time and we are not liable.
*** The exact colour of the item may be slightly different from the pictures because of factors, such as brightness settings from your computer.
**** Please allow 3-5% differences in manual measurements.
***** Package may be opened for random checking before dispatch.
****** Unit may contain bonus pre-installed apps from the original region.

---

Apple iPhone 7 128GB 4G LTE Unlocked Smart Phone Gold ( Code: P65760 )
You might also be interested in: