Wintal WDH11 Wireless Digital Headphone
( Code: HP-WIN-WDH11 )
Tell your friends about this sale at:

---

Twitter

Don't Pay: $99.00

Deal: $69.90 GST Inc.

Save: $29.10(29%)

Estimated Handling Time: 1 - 2 Working Days

Express Post Available*

(Choose express post option in the checkout, extra charge may apply)

* Buy now to earn 699 points

Wintal WDH11 Wireless Digital Headphone

Features
2.4GHz Digital UHF Technology
Smart Auto-Tuning functionality
Simple and reliable connection between transmitter base unitand the headphone. No messy manual tuning!
31-Channel Frequency Hopping System
The smart auto-tuning on the WDH11 eliminates the needto manually change change and set channels. Each transmitterdocking unit connects to only one headphone. Therefore, there's no interference when multiple headphones are used inthe same location.
Smart Volume Memory preset
Electronic Volume Control
Low Power Indicator Alert
Docking Charge Mechanism with speed charging
Auto On/Off (when without signal)
Muting
* Please note WDH11 works only one-to-one, which is one transmitter to one receiver headset, two or more headsets are not supported.

---
The Wintal WDH11 2.4GHz Digital Wireless Headphone uses latest digital wireless technology that enables you to enjoycrystal sound stereo music and TV sound anywhere inside yourhome. Simply connect the transmitter to a desired audio source: DVD player, CD player, TV set, VCR , Hi-fi system, or iPod. Without complicated wiring and installation, the system enables you to enjoy thrilling, lifelike sound in minutes.
Connections
2x stereo RCA inputs
DC in socket
Technical Specifications
Transmission Mode: UHF Stereo
Carrier Frequency: 2.4GHz Digital
Operation Voltage: Transmitter, DC 5V 550mA
Headphone, 2 x AAA size Rechargeable NiMH batteries (included)
Frequency Response: 30Hz~ 20KHz
Distortion: 0.5%
S/N Ratio: 75dB
Operation Distance: Up to 30 meters (open area)
FAQ
Q. The Wintal WDH11does not work with other rechargeable batteries.
A. It actually does, but requires a little tinkering. This is a deliberate design choice as putting non-rechargeable batteries and then docking the headset to the base station will actually cause permanent damage to the Wintal WDH11 when the base station attempts to'recharge' the batteries. To prevent this, we have designed a special side contact. See the image below on how to convert a third-party rechargeable battery to suit the Wintal WDH11 headset.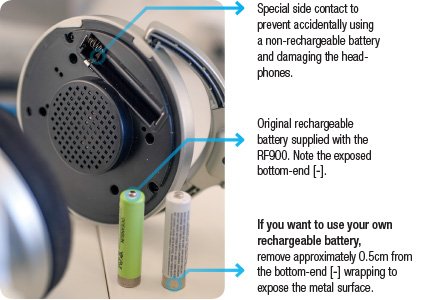 ---
Transmitter
Receiver headphone
2x RCA to stereo 3.5mm audio lead
2x 'AAA' rechargeable batteries
5V 550mA power supply
1 Year Australian Warranty

---

Wintal WDH11 Wireless Digital Headphone ( Code: HP-WIN-WDH11 )
You might also be interested in: